Chicken marinara recipe is simply boneless chicken breasts baked in the oven with marinara sauce on top. Chicken marinara is served on a bed of noodles. Generally spaghetti or linguini pasta is used. What makes this dish special is the chicken is cooked in two ways. First it is seared in a pan and it finishes cooking in the oven. The word 'marinara' in Italian means sailor. It is said that around 450 years ago, wives of sailors in Naples came up with this recipe to add more flavors to the food and that's how the sauce came into existence.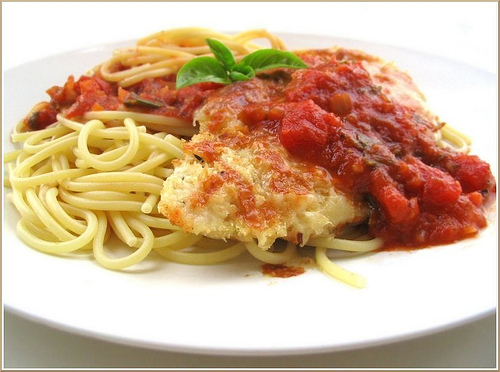 Complexity level: Easy to moderate
Time taken: 45 minutes
Ingredients

For the chicken
1 cup of all purpose flour
2 well beaten eggs
1 cup store bought breadcrumbs
2 cups of grated Parmesan cheese
2 teaspoon of extra virgin olive oil
1 pound of pasta (spaghetti/linguini)
For the sauce
3 (20 oz) cans of stewed tomatoes
4-5 cloves of garlic
1/2 cup of freshly cut basil leaves
1/2 cup of freshly cut oregano leaves
2 finely chopped onions
1 stalk of finely chopped celery
1/2 cup of white wine
Salt to taste
Half a teaspoon of ground pepper
3 teaspoon of extra virgin olive oil
Process
Cover chicken breasts with max paper and pound them gently with a mallet. In three separate pie plates, put flour, beaten eggs and breadcrumbs, respectively. Dredge the chicken in flour first, then eggs and then breadcrumbs
Heat olive oil in a large saucepan. Crank up the heat to about medium high. Add the chicken breasts. Make sure that you get a good sear on the breast on both sides. Chicken breast should be browned but not cooked all the way.
Preheat the oven to 350 degrees Fahrenheit (180 degrees Celsius) for 10-15 minutes. Place the chicken breasts on an oven safe dish and bake for 25-30 minutes. Check the internal temperature of chicken with a meat thermometer. It is cooked when the temperature reaches 165 degrees Fahrenheit (75 degrees Celsius).
In the same saucepan, add garlic and cook for 1 minute. Add onion and celery and cook for another 2-3 minutes on medium heat.
In a food processor, combine canned tomatoes, oregano, basil and ground pepper. Blend until it is smooth and of nice consistency.
Add the mixture to the saucepan and stir well. Add white wine. Let it simmer for 20-25 minutes. Add the chicken breasts to the sauce and let it simmer further for about 10 minutes.
Just 2 minutes before turning off the heat, place Parmesan cheese on top of the chicken breasts.
Cook the pasta according to the package directions. Make sure it is cooked al dente. Place the cooked pasta on a serving platter. Pour the marinara sauce and chicken breasts over the pasta.
Tips
As a variation, you can also use angel hair pasta.
If you desire to use dry herbs, reduce the quantity of herbs to half.
You can add a ladle of water that was used to cook pasta to the sauce to enhance the flavor.