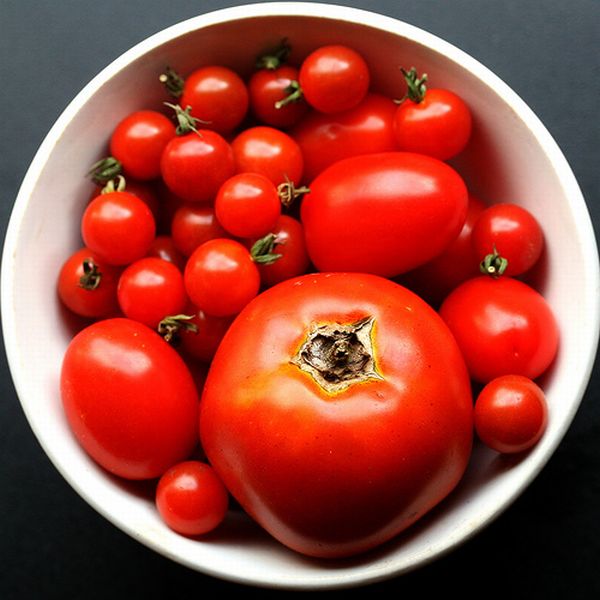 Tomato serves as the king of all the vegetables in summers. And if you think that it is just used in yummy gravies and required for enhancing the taste and color of your recipes, then there is a lot you need to know about tomatoes. The star of summer food, the ripe and juicy tomatoes can alter your list of cuisines this season. Let's get into the tempting and wonderful world of rich and ripe tomato delights. We list you here few of the tomato recipes to try this summer.
1. Sizzling salad
Tomato is best when eaten raw. Tomato for ages has been eaten raw and considered the most crucial ingredient of a salad. Without the red ripe tomatoes, it's hard to think about a healthy salad. Freshly cut tomatoes seasoned with coriander leaves and sprinkling of pepper and salt make your meals dashing and delicious.
2. Tomato pizza
We always prefer innovation when it comes to food. Nothing can salivate your tongue more than a pizza topped with tomato all over. To get into a little different flavor, you can slice the tomatoes very thin to spread it over your pizza slices. With this recipe, your favorite pizza gets a little more special for you after adding the tantalizing tomato over it.
3. Roasted red tomatoes
The red tomatoes can be used in various recipes once you roast it properly. If you have by chance planted those extra tomatoes in your garden, you need not worry about the wastage. Just dice the tomatoes into half and roast it with little oil and add the spices to taste. Few leaves of coriander or mint would alter the taste. You can then cool it to be cooked along with different recipes.
4. Sweet tomato soup
The long list of tomato recipes makes sure that tomato soup is included. Soup is very common when it comes to using tomatoes but the taste buds do long for a tomato soup whatever it is. Soup shows the real richness of tomatoes. You get to have the real taste of tomatoes through it's soup. You can add spices to the soup as per your taste. Mild, sweet, salty, peppery or completely spicy, it's your call. But starting a soup without a tomato soup is a big no no.
5. Salsa out of sweet tomatoes
Here is something new to try with fleshy tomatoes. Salsa recipe is perfect for your finger licking meal. The standard tomato salsa recipe is great on everything from a grilled chicken breast to your favorite chips.
6. Tomato sandwiches
Is it sounding a little offbeat? Yes it is really different for foodies this time. No potato sandwiches; rather try one out of tomatoes to serve your taste buds. Until now you must have added tomatoes to your sandwiches but now it will be just tomatoes. Enjoy your summer with fresh tangy tomatoes sandwiched between your bread loaves.
7. Tomatoes just-picked
Just have the tomatoes in a natural way. You will love and savor its taste for ever. Pluck one from your garden or buy it from a market to taste it raw and uncooked. The juicy pulp of the just-picked tomatoes is head spinner.
Tomatoes in all its form, taste, and flavor testify that no other fruit or veggie can just get better than it. It tastes terrific and no doubt you tend to add and have it with each and every recipe. Your kitchen would be savored more with tomatoes.