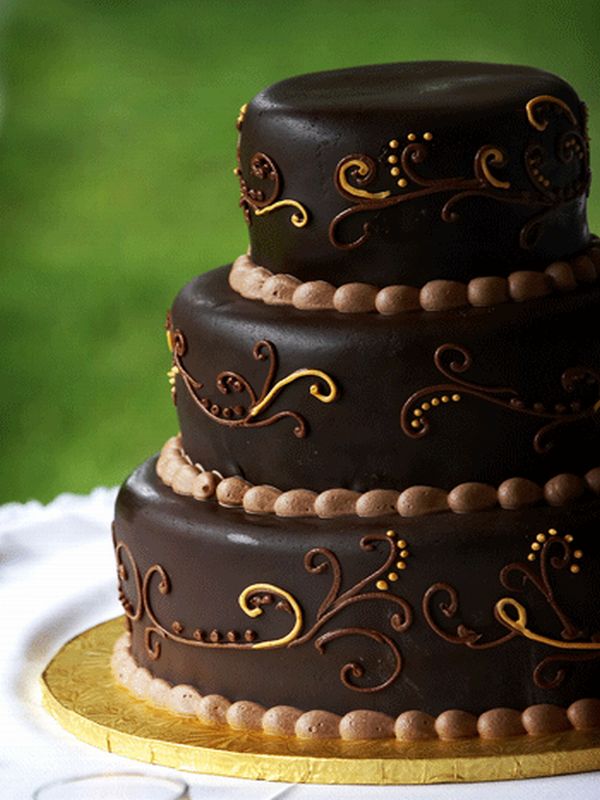 Selecting a wedding gift can sometimes be challenging. But we live in a world which offers surprises and unique experiences. One such surprise and a unique experience would be to bake a wedding cake yourself and gift it to the couple. This would not only be a pleasant surprise but would also is a way to shower your love and best wishes to the couple; so dear to you.
A cake filled with lots of warm wishes and mouth watering butter filling can be a very attractive wedding gift. However, this might seem to be a herculean task as a wedding cake is much looked forward item not only by the bride and bridegroom but also the guests. And you would not like to spoil the wedding mood. Relax! just follow these easy instructions to make and bake that you can make in few hours. You can bake the base of the cake in one day and the other two tiers the next day.
Complexity level
Moderately Easy
Estimated time
4-5 hours
Resources required:
Chocolate cake mix
Icing sugar
Eggs
Butter/oil
Milk
Whipped cream
Cake tin of three different size
Butter paper
Any flavored fruit juice
Large mixing bowl
Electric whisk
Baking equipment
Ribbon and show pins for decoration
Chopsticks
Steps
1. Mix the required ingredients in a bowl
Cake base
Ensure to make the base of the wedding cake big enough to accommodate the other two tiers. Hence buy four to five packets of cake mix. Mix two and a half cake mix in a bowl for the base. Add seven to eight eggs, a cup of butter or oil and two cups of milk. Now mix these ingredients with the help of an electric whisk. The more you whisk, the more fluffy and spongy your cake would be. Check it with your spatula whether there are lumps or not. It should have a smooth and creamy texture.
Second tier
For the second layer, take one and a half box of cake mix for the middle tire and mix it with four eggs, half cup of oil/butter and one cup of milk. Mix these ingredients in a separate mixing bowl.
Last tier
And the third layer will have one box of cake mix, three eggs, and half cup of oil/butter and one cup of milk. Mix these in a separate mixing bowl.
2. Choose your cake tin and bake it accordingly
Since the base of the wedding cake will be big, buy cake tin of 30cms. Grease it nicely and put butter paper to it and dust it with flour. Now pour your cake batter to it and preheat your oven at 450 degree F and bake it. Insert a screwier to your cake and check whether it is coming out clean or not. If yes, then your cake base is ready. Take it out and keep it outside to cool down. Cover it with another butter paper. Now again bake the second layer and the third layer separately in the same way and keep them aside to cool down.
3. Prepare cake filling
In another mixing bowl, pour the whipped cream and icing sugar and whisk it until it becomes fluffy and creamy. You can make filling according to your taste. Now with a sharp knife cut the upper layer of the base. Now evenly spread some juice or sugar water to the surface of the cake. Now evenly spread the whipped cream filling and put the upper layer of the base on top of that. Now cover the base with chocolate cream. Fill the other two layers also in the same process.
4. Assemble the cake layers
Put the base of the cake in a big card board. Insert three wooden skewers to the base of the cake and now put the second layer of the cake on this wooden skewer. These skewers will help to hold the cake tires. Again insert three small wooden skewers on the second layer and put the third layer of the cake on top of those skewers. Evenly cover the cake with chocolate cream on each layer. Allow it to set for some more minutes. Now with fancy ribbon and show pins, cover the joints of the layers. Apply some floral prints or white chocolate curves for decoration.
Your three tier wedding cake is all ready to gift.
You can explore lots of cake recipes available in different websites. Have good baking equipment so that you can have a hassle free baking experience.
Frequently Asked Questions
Question How do we make fruit filling inside the cake?
Answer While baking the cake, you can always mix some dry fruits like cashew, pistachios and raisins. Apart from that you can bake a plain cake and when you spread the filling inside the cake you can spread some thinly sliced fruits like strawberry, blue berry, and anything you wish to. First spread the cream, then the fruits and top it with the upper layer of the cake. Make sure to use the cake that day itself as with the fruit filling you cannot keep the cake for a longer time.
Quick tips
Other then milk you can use any juice like pine apple, or orange as you cake will have this flavor.
After getting it off from the oven, always cover your cake as it helps the cake to remain moist and soft.
Things to be watch out for
Once you assemble your cake, you cannot move it from that place. So before assembling make sure to do it in a proper manner.
Purchase three or two tired cake stand, this will make your work easier.