Pairing food with drink seems a natural combination and the right drink can intensify the taste of any meal, but finding a perfect match for it can prove hectic at times. Unlike other poultry dishes, turkey meat is slight dry in texture, so you might need to get some good mouth watering drinks to dissolve that taste. We cannot overlook the importance of drinks that may complement the awesome food served before. Here are a few suggestions that might help you in arranging a Thanksgiving dinner, which calls for a roasted turkey meal coupled up with some light, bubbling drink that refreshes the mood.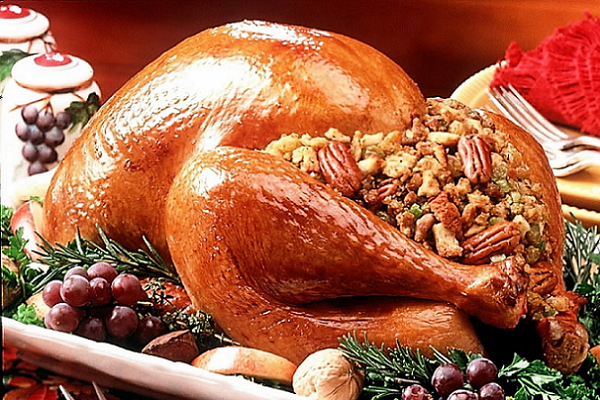 1. Wine

As a light supplement, wine has been used as an ideal food pairing drink in countries for many centuries. The Rhone valley of Germany is famous for its Cote-Rotie, red and white wines. These wines are not oaked and you can drink them young while appreciating their fruit taste.
You can also prefer red wine such as pinot noir and Beaujolais. All of them have juicy, berry-ripe flavors that suit best with turkey.
2. Beers
Rich and heavy beers are not something I will consider ideal for food pairing but the high acidity and crispness of a beer would help get you through a heavy turkey meal. You need beers that will enhance the taste but not overpower it; a perfect balance. The three all-time favorite drinks to pair with turkey dinner, and all the fixings, are Amber Ales, Oktoberfest and Brown Ales. Amber Ale is described as 'monstrously hoppy'. This red ale packs a 7% ABV punch with a touch of sweetness behind the hops to pair perfectly with your turkey dinner. Oktoberfest is very floral but slightly bitter in taste. It can be good for someone who wants to try a new style and not afraid of it.
3. Cocktail suggestion
With its warm, complex sweetness, maple syrup is the perfect autumn cocktail flavor. This concoction uses the pancake topper as well as Vermont Gold Vodka, which is made entirely from maple sap.
4. Non alcoholic drinks suggestion
Other than the alcoholic drinks, few other drinks such as tea, sparkling cranberry punch, pilgrim's punch and Cinderella can also be presented with the roasted turkey.
a. Tea and coffee
You may include rich and malty Assam tea or spiced Turkish coffee, although black tea will complement best with stuffed food.
b. Sparkling cranberry punch
This punch acts as a perfect replacement for alcoholic drinks. It has a great taste, mixed flavors of pink lemonade and cranberry. It also contains the elegance of a sparkling punch.
c. Pilgrim's punch
This pilgrim is a favorite. It is a tasty tall drink, lasts a long time and is the perfect mixture of fruits.
d. Cinderella punch
This mock tail may refresh your taste of tropical. Garnishing with pineapple and orange slices will make Cinderella an elegant drink.