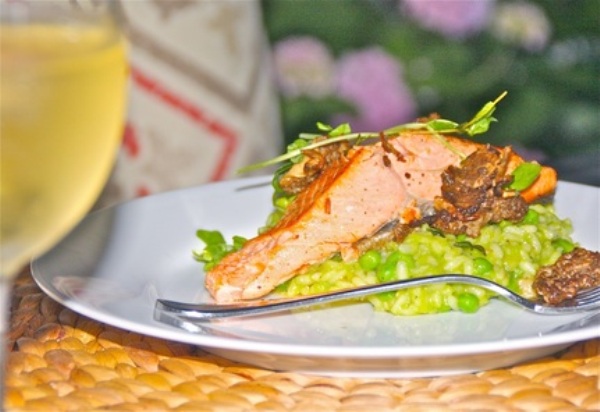 It is the salmon season and you can take a plunge in the numerous recipes available to prepare various delicious salmon dishes. Salmons are one of the healthiest fish that you can eat. They have loads of omega 3 fatty acids and other vitamins.They are eaten for their delicate and tender meat. The most popular recipe is Salmon with morels and pea risotto. This dish can be prepared in all seasons with some personalized changes. For instance, you can use seafood and summer herbs in summer, while in winter you can add meat juice from pot roast. It's all up to you.
Some easy ways to make salmon with morels and pea risotto are given below:
How to make Salmon with Morels and Pea Risotto
Ingredients required:
Skinless, boneless salmon fillet, 1 lbs
Whole fresh morel mushrooms, ¼ lbs
Arborio rice, uncooked, 1 cup
Grape-seed oil, 3 tbsp
Thyme, fresh, 4 sprigs
Baby mint leaves, fresh, 3 tbsp
Baby peas, frozen, 1 cup
Chicken stock, 4 cups
Shallot, 1 medium
Extra virgin olive oil, 2 tbsp
Unsalted butter, 2 tbsp
Dry white wine, ¼ cup
Parmesan cheese, grated, 1 cup
Lemon juice, freshly squeezed, 1 tbsp
Directions to prepare:
a. Soak the mushrooms in cool water and remove any grit on it. Finely chop the shallot and the herbs. Put the oven on preheat at around 400 degrees. Then, mix the fillets with salt and pepper to add flavor in the meanwhile.
b. Heat up a large sauté pan or skillet and add grape-seed oil to it. Once the oil starts to simmer, put the the salmon fillets and sear for 2 to 3 minutes. Once the fillets are seared perfectly, add whole morel mushrooms, thyme sprigs and freshly squeezed lemon juice to the pan.
c. Shift the sauté pan to the preheated oven and set the timer for around 10 minutes. While the fillets get cooked, heat up a large pot and boil the chicken stock on medium to high heat to make risotto. Add baby peas and blanch for 2 minutes when the stock starts to boil.
d. Once the peas are blanched, strain them out with a strainer and continue to simmer the stock. Take a blender and purée up half of the blanched peas and keep them aside. Now, heat up a little olive oil in a fresh pot and add finely chopped shallots to it. Stir them well for around 5 minutes and pour in some white wine.
e.Then, add the chicken stock to the pot. However, you need to be cautious. Make sure that you are adding one cup of stock at a time and stir it well until the liquid is well absorbed. Once it is absorbed, add another cup of stock.
f. Now, add peas (both the puréed and blanched ones), grated Parmesan cheese and butter to the pot. Last but not the least, season the mixture with salt and pepper to add taste. The recipe, salmon with morels and pea risotto is prepared to be served. Please don't forget to put some fresh mint leaves and fresh lime wedges at side while serving!