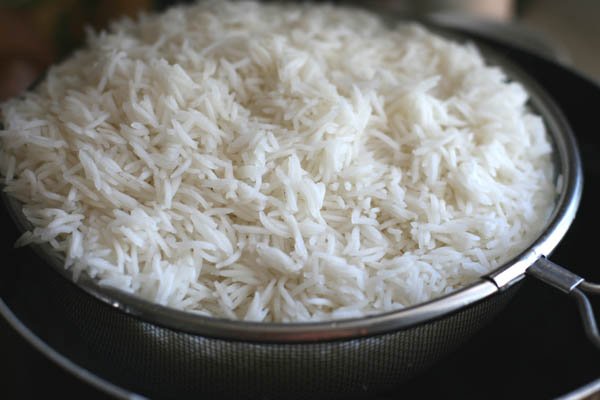 Rice is one of the favorite cereals of Asia especially the Indian subcontinent. They are rich source of carbohydrates and have high water absorbing capacity. Rice is main food in China, Japan and many part of India. There are thousands of dishes that can be made from Rice. However, I am choosing the best three rice recipes of Asian continent that will surely raise your appetite. These items are very famous worldwide, as most of the Asian restaurant abroad, serves them in their prime menus.
1. Hyderabadi Dum Biryani (Indian)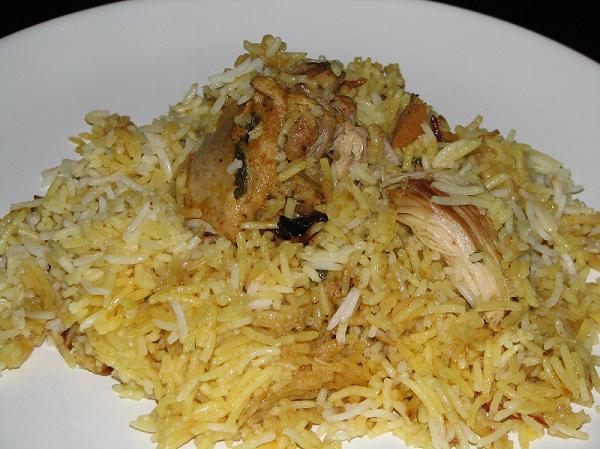 Complexity level: Moderate
Time taken: 2 hours
Ingredients: Basmati rice, ghee, mustard oil, garam masala, bay leaves, saffron, milk, lamb mutton, papaya paste, salt, turmeric, red chili powder, curd, lemon juice, flour, sugar, onion, ginger and garlic.
Process:
1. First take 500 gm of lamb mutton and marinate it with 100gm of papaya paste, 100 gm of curd, 3 tbsp of mustard oil, 2 tsp lemon juice, salt, a pinch of turmeric and a pinch of chili powder for one hour.
2. Soak 3 cups of rice in hot water for 15 minutes covering the lid. This will allow rice to be half-boiled and moist.
3. Heat 5 tbsp of ghee in a vessel with narrow mouth. Fry 3 chopped onions, 7-8 cloves of garlic, 1 tsp of ginger paste and 3 dried bay leaves. After they start turning brown, add 2 tsp of gram masala, a pinch of sugar and fry it for another 2 minutes in low flames.
4. Add the marinated mutton along with all its ingredients in the vessel and fry for another 5 minutes in high flame. Keep stirring to prevent the stickiness.
5. Add the rice on top of the mixture. Do not mix the rice with vessel ingredients. Add a pinch of saffron and milk on the rice.
6 Seal the vessel with flour dough to prevent any steam leakage.
7. Keep the vessel in low flames for 10 minutes then shift it to indirect heating. You can use a frying pan to prevent barrier between flame and the vessel. Keep the vessel there for 30 minutes.
8. Then douse the flames and keep it for another half an hours. Your Biryani is ready to serve.
2. Vegetarian Pineapple Rice with turmeric (Thai )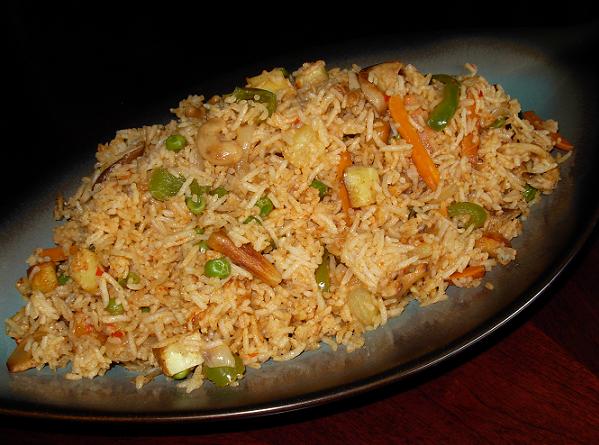 Complexity level: Easy
Time taken: 1 hour
Ingredients: Rice, refined oil, vegetable stock, turmeric, garlic, salt, raisins, cashew nut, soy sauce and pineapples
Process:
1. Marinate the 3 cups of rice with 1 tbsp oil.
2. Heat 5 tbsp of oil and fry garlic in it. Add a pinch of turmeric, 1 tbsp of soy sauce, salt and add the vegetable stock in it.
3. Add 200 gm of chunks of pineapple, cashew nuts and raisins and stir-fry it for 2 minutes.
4. Add the rice, seal the vessel and keep it in medium heat for 10 minutes.
5. Open the sealing, stir-fry the rice until water dries up and rice starts popping, in high heat.
6. Serve them with spring onions and coriander.
3. Chicken fried rice (Chinese)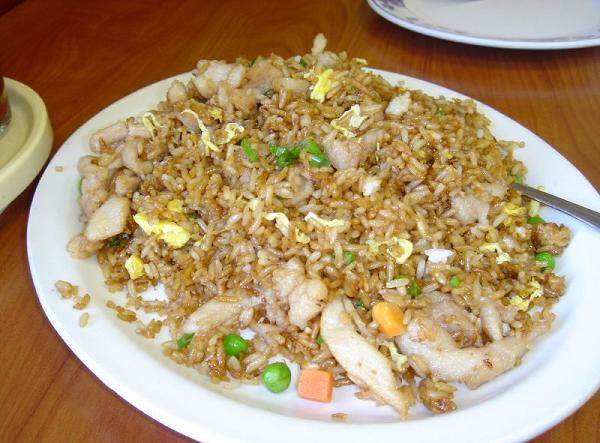 Complexity level: Easy
Time taken: 1 hour
Ingredients: Rice, refined oil, Chicken, onion, capsicum, garlic, salt, vinegar, soy sauce
Process:
1. Boil 2 cups of rice and drain off the excess water and keep it aside.
2. Heat 3 tbsp of oil in the pan.
3. Stir fry 100 gm of finely chopped boneless chicken pieces with a pinch of salt and keep them aside.
4. Add and 2 tbsp of oil in the pan. Stir-fry finely chopped onion, garlic, capsicum and salt.
5. Add the chicken and the rice.
6. Stir-fry it until rice start to pop.
7. Add 1 tsp of Soy sauce and 2 tbsp of vinegar. Stir-fry the mixture with constant stirring for another 5 minutes.
8. Add 1 tbsp of oil to give it shiny look.
9. Garnish them with mint leaves and serve them hot.