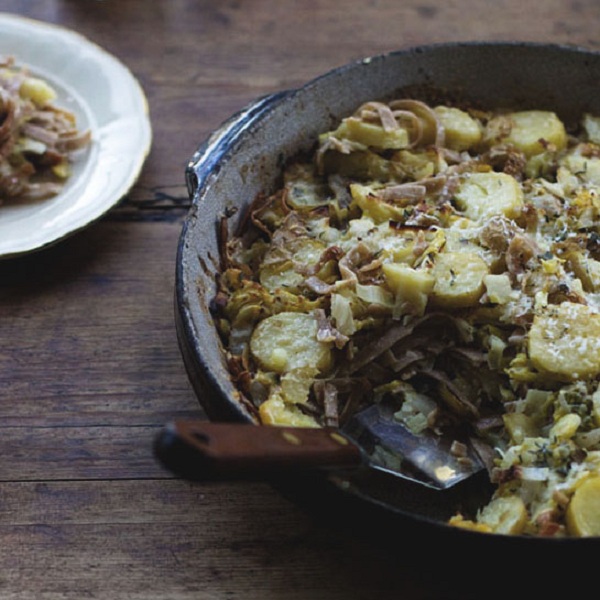 Winters bring out the lethargic side of us. The cold foggy morning is unable to drag us out from our beds. In such times, usually a quick and healthy cooking option is a savior, something that is full of nutrition and taste. One of such option is baked farro pasta. Farro is a healthy food product obtained from the grains of a particular wheat species. Whole wheat as we all know is a brilliant source of fiber. The farro is then ground to flour and processed into pasta. A unique ingredient but this is an awesome recipe. Baked farro pasta tastes excellently good and in case you do not get farro pasta, you can substitute it with any other pasta. The taste will be a bit different, but you will surely enjoy it.
Complexity level: Easy
Time taken: 1 hour
Ingredients:
1. A pound small potatoes, Yukon gold, fingerling, preferably
2. A pinch of fine grain sea salt
3. 1 1/2 tablespoons white butter and a bit for the baking dish
4. 4 small sized leeks, thinly sliced and well cleansed
5. 3 medium sized garlic gloves, peeled and finely minced
6. Head of a medium sized cabbage halved, cored and finely shredded
7. 1 cup / 150 ml vegetable broth or water
8. 1 1/3 tablespoons whole grain mustard
9. 1 1/4 cup freshly grated Parmesan cheese
10. 12 fresh sage leaves
11. 15 ounces dried farro tagliatelle, broken into 3-inch segments
12. 5 ounces soft creamy cheese, cut into tiny cubes.
16. 2 tablespoons extra-virgin olive oil
Process

1. Boil water in a large saucepan along with two big tablespoons extra-virgin olive oil and a pinch of fine grain sea salt so that the pasta does not stick to each other.
2. In a separate pan, add the potatoes and cook covered on medium heat with water and a pinch of sea-salt. Slow the heat and cook for about half an hour, when the potatoes start cooking and become tender. Take the potatoes out and drain them in a sieve, then slice the potatoes into 1/4-inch roundels. Now toss the slices gently with a bit of seasoning and place aside.
3. Heat butter in a pan on medium heat. Add leeks and cook them for a while while gently tossing them till they become soft. Drop the minced garlic. Add the shredded cabbage, and then pour the vegetable broth or water. Add the seasonings and cook covered with a lid for a few minutes. Then remove from fire and add the mustard. Pour the Parmesan cheese and add half of the sage leaves. Adjust the seasoning if needed and keep aside.
4. Cook the pasta al dente in the boiling water for about 10-12 minutes. Drain in a colander and wash thoroughly in running water and spread on a large plate.
5. Grease a 9 x 13 inch baking dish. Arrange even portions of the pasta in the bottom of the dish. Layer it up with half the cooked cabbage mixture, half the cooked potatoes, half the Parmesan cheese and half of the soft creamy cubed cheese. Arrange the remaining pasta over the cheese and again top it up with with the remaining cabbage mixture, potatoes mixture and the remaining cubed cheese. Sprinkle the remaining Parmesan cheese and slivered sage leaves
6. Bake in a 400 degree oven for 45 minutes till you see a nice golden color on the top. Serve instantly.
Tips
1. If you want you can add sliced chicken, beef or ham sausages to the pasta.
2. Take care not to overcook the pasta.