After a hard day at work, it can be very difficult to motivate yourself to cook anything for yourself let alone an entire household. But for those with children and a family to feed, the key to making dinnertime run smoothly is simplicity. In this article we look at the best quick and easy recipes to cook and enjoy at home. With every meal requiring only five ingredients or less, you'll have no excuse to dial out for takeaway ever again!
1. Bacon and peas risotto
Just grab one white onion, six rashes of streaky bacon, one litre of hot vegetable stock, 100g of frozen peas and 300g of risotto rice and you are ready to go. Finely chop your onion and fry until lightly browned in a knob of butter. Add the bacon until crispy, then stir in the rice and stock and sweat for twenty minutes. In the final three minutes, add salt, pepper and peas and serve.
2. Creamy asparagus pasta
Nip to your local market and grab a bunch of asparagus, two garlic cloves and 50g of parmesan, 250g tagliatelle and 142ml of double cream. Cut off and discard the woody ends of the asparagus, snip off the tips and bring the cream and peeled whole garlic cloves to the boil. Cool the stalks in boiled salted water for 5 minutes, drain and add the cream and the parmesan. Cook the pasta, adding the asparagus tips two minutes before the end of the cooking time. Gently reheat the cream before adding to pasta and serving.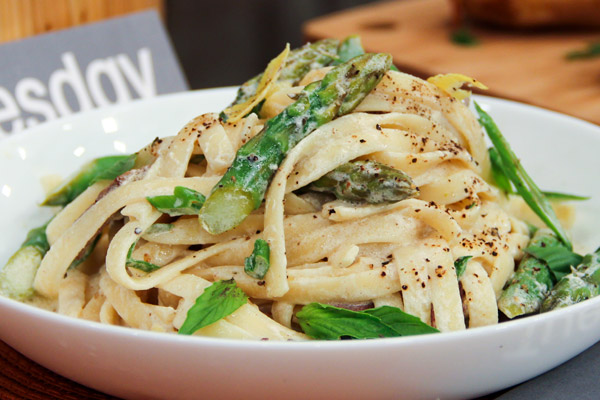 3. Glazed prawns
For those evenings where you fancy a light meal but don't want to compromise on flavour, try these delicious glazed prawns. Simply buy a pound of peeled and de-veined prawns and ensure you have honey, mustard, garlic and Dijon mustard in the cupboard at home. Once you're ready, combine the prawns, two minced garlic cloves, two tablespoons of honey and three tablespoons of Dijon mustard and stir. Thread the prawns on to skewers and grill for two minutes on each side or until they turn opaque. Serve with salad or rice.
4. Fig and cheese pork tenderloin
An easy yet sophisticated dish, this is a great meal to whip up when you have guests you want to impress. Buy one pound of pork tenderloin, ½ cup of dried figs, ½ cup of crumbled blue cheese and a jar of apple sauce. Cut a pocket in to the pork and pack with one tablespoon of apple sauce and the figs and wrap with bake proof paper. Bake in the oven for twenty minutes at 450C and enjoy with mashed potato.