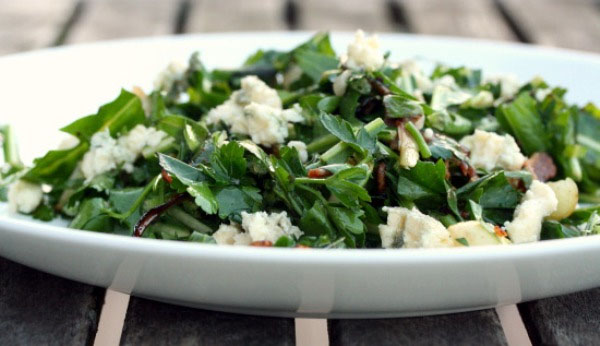 Salads are a perfect addition to any course and can be served at any point during a meal. They also make great meals in themselves. There are many different types available like green salad (often composed of green leafy vegetables), vegetable salad (composed of vegetables other than green vegetables), bound salad (composed of thick sauces like mayonnaise), main course salad or dinner salad (composed of chicken and sea food), fruit salad (made of fruits including fruit cocktail) and dessert salad (usually made of gelatin or whipped cream and often sweet). Green salads and vegetable salads are considered to be low in calories than the others and are the preferred choice for health conscious individuals.
In this recipe, you will learn how to prepare Blue Cheese Salad with cranberries and how to prepare ranch-style dressing. Just for your information, Stilton (or blue cheese) has its origins in England and is known for its strong smell and taste.
Blue Cheese Salad is nutritious and tasty: a swanky version of a regular salad. Ranch-style dressing, meanwhile, is the most common dipping sauce used for vegetables and also for pizza, sandwiches and hamburgers.
Along with the recipe, below are given some tips to make the whole process easier to complete as well as tastier.
Difficulty level: Easy
Serves: 8
Preparation Time: 10-15 minutes
Ingredients:
2 heads of chopped iceberg lettuce
1 cup of chopped spinach
2 cups of crumbled Blue Cheese
1 cup of crumbled bacon
1 cup of coarsely chopped walnuts
1 cup of dried cranberries
1/2 cup of coarsely chopped red onions
Salt o taste
Pepper to taste
Salad dressing (Ranch-style)
Preparation method:
Chop the lettuce and spinach
Crumble the Blue Cheese and bacon
Coarsely chop up the walnuts and red onions
Mix the lettuce and spinach
Add salt and pepper to taste
Divide the mixture into bowls for different servings
Add salad dressing to taste (prepare the dressing as per the recipe shared below)
Add the Blue Cheese, bacon, walnuts, cranberries and red onions
Serve
Tips:
Use scissors to cut up the spinach to save you time.
You can change your salad dressing as per your individual.
Make sure you cut the lettuce just before you prepare the salad to enhance the taste.
Recipe for Ranch Dressing:
Difficulty Level: Easy
Serves: Depends on usage
Preparation Time: 5-10 minutes
Ingredients:
1 clove of garlic
1/2 tsp of salt
1 cup of mayonnaise
1/4 cup of buttermilk
2 tbsp of flat leaf parsley, roughly chopped
1 green onion, cleaned, trimmed and cut into large pieces
1 tsp of white wine vinegar
Black pepper to taste
Preparation:
Add all the ingredients except the black pepper in a blender
Coarse grind the ingredients using the blender until everything is chopped and mixed well
Check the thickness of the dressing. If needed, add some salt and black pepper and blend them well.
If the dressing is too thick, add a few more tablespoons of buttermilk until you get the desired consistency
The dressing is now ready to serve
The dressing can be stored in a refrigerator for up to three days