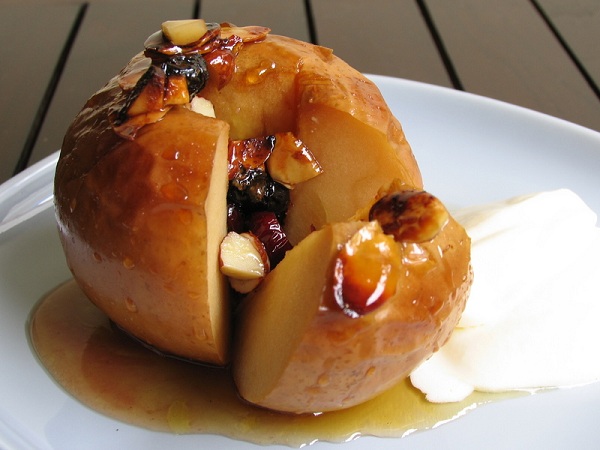 An apple a day keeps the doctor away. All of us are well versed with this saying. Apple has a historic background as we all know. Eve incurred the great sin of taking a bite of this lovely fruit. But to be fair, it wasn't her fault, who can control oneself from taking a bite of this luscious, juicy, red apple? Times have changed and so have habits and preferences.
Today's generation believes in having burgers and pizzas rather than having green veggies and fruits. Apple has been shadowed over by various fruits and unhealthy diet options. But a change can be brought over and apple can be included in your regular meals with the following recipes that are not just mouth watering, but also easy to be prepared. It's time to fall in love with the apple.
1. Classic Waldorf salad
a. Complexity level: Easy
b. Time taken: 20 minutes
c. Ingredients
1. 250 ml or 1 cup fresh walnut, sliced to halves
2. 3 large sized apples of any premium variety
3. 3 big tablespoons lemon juice
4. 3 celery stalks, sliced into pieces
5. 1/2 cup eggless mayonnaise
6. 2 teaspooons, liquid honey
7. Sea salt and freshly ground black pepper, for seasoning
8. 1 lettuce head of any variety.
d. Process
1. Preheat oven to 180 degrees and arrange walnuts in a layer on a oven-safe crust plate. Bake for 12 minutes taking care that they are not over roasted. Remove the walnuts from oven after toasting them and let them cool.
2. Cleanse the apples and cut them into cubes. Pour the sliced apples in a large mixing bowl and add the lemon juice. Toss the apple cubes along with the lemon juice so that the flavors mix well together. Then add celery pieces and the toasted walnuts. Toss them again and set aside.
3. In a separate mixing bowl, add mayonnaise, honey and blend to prepare a smooth dressing. Now pour this dressing over the tossed apple mixture and lightly fold the ingredients so that the apples are coated well.
4. Cleanse and pat dry lettuce leaves. Place the leaves on serving plate. Pour salad on lettuce leaves and serve right away.
2. Apple butter and ice wine tarts
a. Complexity level: Easy
b. Time taken: 30 minutes
c. Ingredients
1. 1 box tart shells
2. 3 large sized cooking apples
3. 1/2 cup ice wine
4. a pinch of nutmeg powder
5. a pinch of cloves powdered
6. a pinch of cinnamon powder
7. 1/4 cup sugar
d. Process
1. Cleanse, core and peel the apples. Slice them into medium sized chunks. Place the apple chunks in a heavy bottomed saucepan with the ice wine. Cook on medium heat for about 15 minutes, till the apples start softening. Remove the apples heat and add the ground spices and sugar.
2. Mix the seasonings into the apple mixture, and put the apples back on medium heat and cook while stirring the mixture continuously for 5 minutes. Bring it to a boil. Remove the apple mixture from heat and set aside to let it cool.
3. Transfer this mixture to an airtight container and refrigerate for about 2-3 hours before using it.
4. Prepare the tart shells according to instructions. Fill the tarts with lots of cream and the prepared apple butter. Serve instantly garnished with a cherry on the top.
3. Cream of apple 
& parsnip soup
a. Complexity level: Easy
b. Time taken: 45 minutes
c. Ingredients
1. 3 tablespoons white butter
2. 1 tablespoon extra virgin olive oil
3. 2 small leeks, thinly sliced
4. 1 large clove garlic, peeled and finely minced
5. 1/2 tablespoon curry powder
6. 1/4 tablespoon coriander powder
7. 3 tablespoons all-purpose flour
8. 2 cooking apples, peeled, cored and cut into chunks
9. 2 small parsnips, peeled and chopped
10. a pinch of salt and freshly ground black pepper for seasoning
11. 3 medium cups chicken or vegetable broth
12. 1 cup whole milk
13. 1/2 cup chopped fresh parsley
14. 1 cup bread croutons (optional)
d. Process
1. Melt butter on medium heat in a large heavy bottomed saucepan. Add oil to it and add leeks and cook for 2 to 3 minutes or till the leeks soften. Then add the minced garlic and cook for another minute, add curry powder, corriander powder and the flour. Mix well cooking for another 2 to 3 minutes.
2. Now add the apples, parsnips, and seasoning and mix well. Add the chicken broth and stir well. Bring this mixture to a boil. Now reduce the heat and let it simmer for 25 minutes.
3. Transfer the cooked mixture to a food processor or blender and blend till the mixture is smooth. Clean saucepan and pour the blended mixture into it. Cook on low heat. Add milk and raise the heat. Ladle the soup into soup bowls and garnish with chopped parsley and croutons.