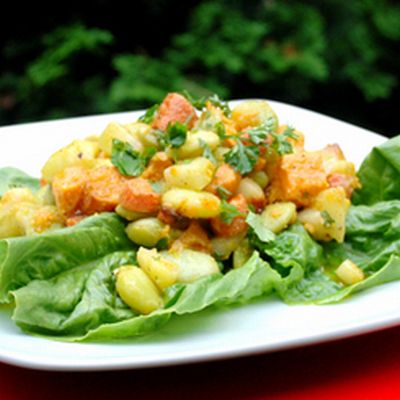 Ensalada de Chuchu is a traditional mouth watering recipe from Brazil. Chayote is called Chuchu in Brazil and has its relation with the squash family. It is one of the essentials in the salad recipes of South America, and has a tangy crunch to its cucumber like taste. Chayote also has a strong characteristic to soak up the aroma and flavor of salad dressings. This salad is pretty colorful and mainly eaten in winters, at the same time, it is quite nutritious too. Apart from chayote, roasted sweet potato, lima beans, carrots and cilantro is added to the salad. Serve it up with green lettuce and warm rice.
Complexity level: Moderate
Time taken: 50 minutes
Ingredients
1. Two chayotes
2. Two sweet potatoes
3. One pound lima beans
4. Four large carrots
5. Half cup chopped cilantro
6. One fourth cup olive oil
7. One teaspoon cumin
8. One fourth cup rice vinegar
9. One lime juice
10. One tablespoon Dijon mustard
11. One fourth teaspoon chili powder
12. One teaspoon curry powder
13. Salt and pepper to taste
Process
1. Preheat the oven to 375 degrees.
2. Peel the carrots and sweet potatoes and slice them into medium cubes.
3. Now add three tablespoons of olive oil and one teaspoon of cumin into the diced cubes of potatoes and carrots. Sprinkle little salt and pepper and toss them well.
4. Now set a sheet of aluminum foil in a baking tray. Spread the tossed potatoes and carrots in a smooth layer over the foil. Now, place the tray in the preheated oven for around 30 minutes and keep them stirring gently in between, till the time they become soft and develop a golden brown color. When done, remove them from the oven and let it cool down.
5. Put a saucepan over the stove with water in it. Add a little salt and bring it to boil. Take off the skin of chayote and slice it in half. Add the chayote in boiling water and cook for around 10 minutes. Afterwards, drain it and let it cool. Remove the seeds and slice it into cubes.
6. In another saucepan, again boil salted water and cook lima beans for 10 minutes. Drain it and let it cool.
7. Now, mix well half cup olive oil, mustard, lime juice, rice vinegar, curry powder, chili powder and cumin. Sprinkle salt and pepper to the mixture.
8. Take a large bowl. Add all the chopped vegetables and cilantro. Pour over the prepared mix of dressing and toss it. Let it rest for one hour and serve warm.