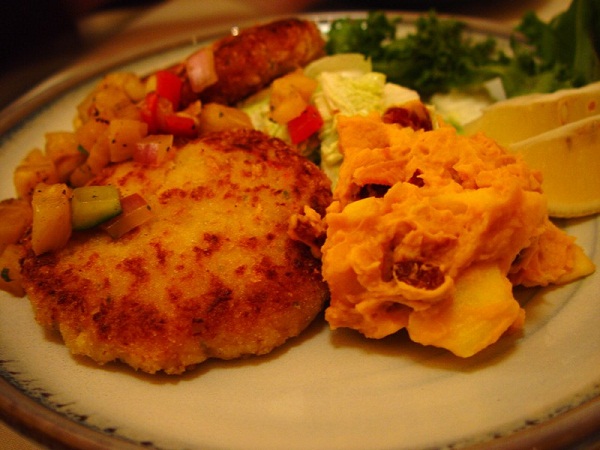 An all American dish, you can relish it over lunch or dinner and also dish it out with your drinks. It makes an excellent entry when you have guests arriving at your home. They are a local favorite in and around Chesapeake bay, City of Baltimore, and State of Maryland. You can serve them when they are hot or at room temperature. Dole them out with sauces in style. They go best with tartar sauce and remoulade. You can also serve them out with plain old mustard and ketchup.
Complexity level: Easy
Time taken: 25 minutes
Ingredients
Crabmeat (20 ounces)
Mayonnaise (1/2 cup)
Green onions (minced, 1 cup)
Cilantro (minced, 1 tablespoon)
lime juice (1 tablespoon)
Fresh ginger root (minced, 1 teaspoon)
Hot pepper sauce (1/2 teaspoon)
Salt (1/2 teaspoon)
Black pepper (1/2 teaspoon)
Eggs (2 or 3)
Dry bread crumbs (1 cup)
Vegetable oil (1/2 cup)
Process
1. Mince the green onions, ginger and cilantro finely. Then, roughly chop the crabmeat also. If it is very watery, then just compress it against a colander to remove excess moisture. Crab meat is the prime ingredient used in this delectable dish. Nothing beats the taste of fresh seafood, so try to get your hands on fresh and juicy crabs.
2. Take a large mixing bowl and add all the seasoning in it. You will be combining the green onions and cilantro with lime juice, ginger, mayonnaise, and hot pepper sauce. Add a dash of salt and pepper to this mix and throw in the crab meat. Mishmash all the ingredients well until they blend well with each other.
3. Now, you have to make cakes or patties out of the dough. Just, divide it into balls of equal size and set them aside. Then, start to beat a few eggs in a shallow dish. Make sure that the dish is not too steep but wide with a sizable surface. Next to the dish with beaten eggs, place another dish with bread crumbs. Now take one ball and dip it lightly into the beaten eggs. Then, press it lightly on the dish containing the bread crumbs. Make sure that you douse each ball on both sides. Not everyone can flatten the balls when you are coating them with bread crumbs. So try to flatten the balls before dunking them in the eggy blend.
4. Heat oil in a large skillet or a shallow pan. Add the crab cakes here and let them cook till they turn out well browned. You can add a little more oil if needed while cooking. Ensure that you brown them well on both sides, about 2 minutes for either side will be sufficient.
Tips
If you are a health fanatic or weight watcher, avoid deep frying the cakes. Instead, shallow fry them and dribble a little water when they are heating up. Another very healthy option is to bake the crab cakes. Also, use low fat mayonnaise or simply add some milk instead of the fattening ingredient. If you like them spicy, add a bit of green bell peppers and chillies also.