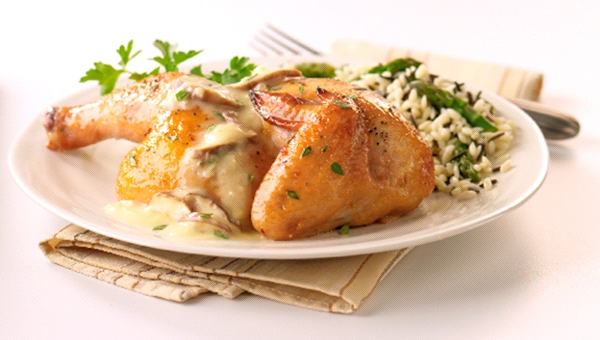 Chicken in vinegar sauce is a very popular Mediterranean European dish. It's delicious and pretty healthy calorie wise. We bring you the recipe for the mouth-watering Chicken in vinegar sauce. Read on:
Serving
4-6 people
Difficulty level
Moderate
Ingredients
a. Butter(unsalted) – 4 tablespoons
b. Extra-virgin olive oil – 1 tablespoon
c. 4 unpeeled garlic cloves
d. One 3 ¾ pound chicken, cut into 10 pieces
e. Kosher salt
f. Ground pepper
g. Rice vinegar – 1/2 cup
h. 2 medium tomatoes, seeded and cut into 1/2-inch dice or 4 tbsp. tomato paste.
j. Chopped flat-leaf parsley – 2 tablespoons
Method
1. Take a large, deep skillet or frying pan.
2. Melt 2 tablespoons of the unsalted butter in the extra-virgin olive oil.
3. Add the 4 unpeeled garlic cloves after the butter melts in the olive oil.
4. Mix the Kosher salt and ground pepper to the chicken and leave it for a while to season.
5. Now add the seasoned chicken to the skillet. Cook in medium high flame for about 8 minutes, let the chicken turn light brown.
6. Keep flipping the sides of the chicken to thoroughly fry it.
7. Bring the flame down to simmer and add the tomatoes and the rice vinegar. Cover the skillet and let it cook over medium low heat for about 15 minutes. The chicken should be cooked thoroughly.
8. Separate the chicken and the sauce or gravy.
9. Transfer only the chicken to a platter and cover it or wrap it or let it inside an lightly pre-heated oven to keep it warm.
10. Thicken the sauce by boiling over medium-low heat or in simmer for about 4 minutes. Don't add any thickening ingredients like cornflour etc. It will ruin the taste.
11. Take out the garlic cloves and peel them. They'll peel off easily after frying. Mash the garlic cloves into the sauce.
12. Add in the remaining 2 tablespoons of unsalted butter and the parsley; stir well.
13. Season with salt and pepper. Now pour the sauce over the chicken and your dish will be ready for serving.
You can add a little honey over the preparation for added taste.
Bon Appetit!