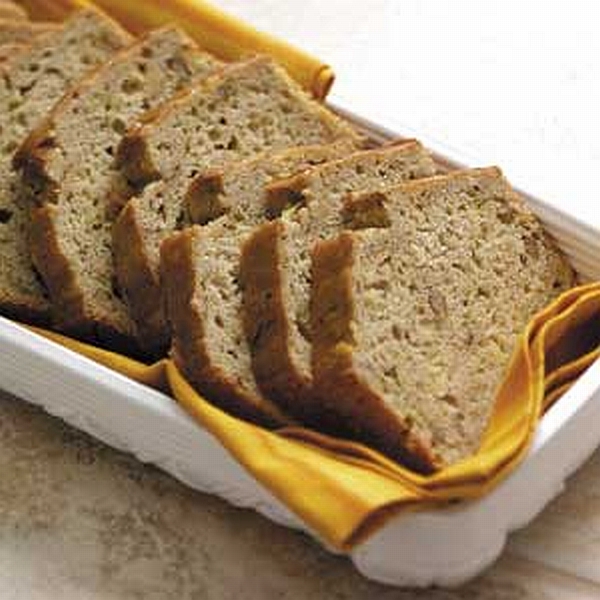 Zucchini has a way of showing up, and then keeping on showing up, till you run out of ideas as to how to use them. Zucchini or courgette is a wonderful summer treat that is cooked and served in a variety of innovative way, thanks to the overabundance of it during its growing season. While it is considered a vegetable, you may be surprised to know that it is, strictly speaking, a fruit! Here is a low-fat zucchini bread that you can make by following these simple instructions.
Complexity Level
Moderately Easy
Time Required
1 Hour
Resources Required
1 cup grated zucchini

1 cup of all purpose flour

1 cup of pastry flour

1/2 tsp baking soda

A pinch of salt

A pinch of finely crushed cinnamon

A pinch of freshly ground nutmeg

1/2 cup of castor sugar

4 tbsp vegetable oil

1 egg

1 tsp vanilla essence

A pinch of lemon zest

1 tsp lemon juice

1/4 cup assorted nuts chopped fine

Loaf tin, mixing bowl, electric blender and spatula
Procedure
1. Get oven and loaf tin ready
Preheat oven to 350-degrees F. Rub oil in your hand. Rub it into the loaf tin and then dust it lightly with flour.
2. The flour mix
In a mixing bowl bowl mix the flours, baking soda, salt, cinnamon and nutmeg. Pour it out into another container.
3. Blend other ingredients
Blend the sugar and vegetable oil in a blender. Add the egg, vanilla extract, lemon juice and zest into the sugar-oil mix and blend till thoroughly mixed. Pour this out into the mixing bowl.
4. Bring it all together
Slowly add the flour mixture and keep folding it continuously in the same direction with a spatula until thoroughly combined. Once it has reached a smooth and even consistency, add the grated zucchini and the chopped nuts and fold them in evenly.
5. Bake your bread
Transfer the mix to the loaf tin and bake for 45 minutes. Slide the blade of a knife in to the center of the bread and pull it out. If it comes out clean, your bread is done. If not, give it a few more minutes of baking. Once done, take it out and let it rest.
6. Serve
Once it is cool, turn the tin over and tap all around to loosen the zucchini bread till it comes out. Serve with butter or fresh cottage cheese and some seasonal salad.
Frequently asked questions
Q. Is it possible to preserve the zucchini for baking bread in the later days?
A. Yes, it is indeed possible to save the cheap summer vegetable for later use. All that you would have to do, is, to steam and store it. Take a container, fill it with a little water and add grated zucchini to it. Bring the water to boil. Now, sieve out zucchini from the steamed water and pack it up in a sealed pack. Store it in the freezer. This way it can be preserved for up to 12 months.
Quick tips
You can add a variety of flavors to this basic recipe, such as chocolate chips, fruits, etc., by adding them into the batter right at the end.
Things to watch out for
Zucchini bread will not keep beyond a couple of days, so make sure that it is used up as early as possible.