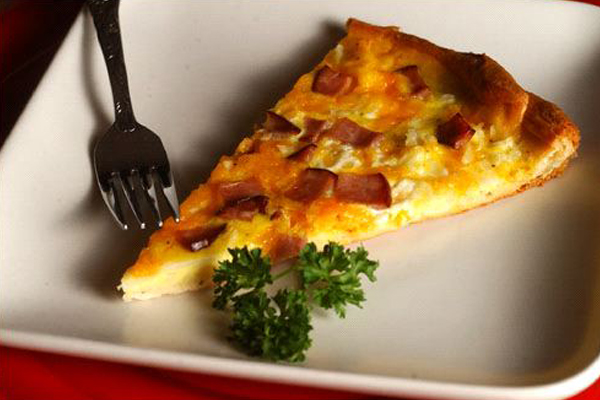 Want to spice up your boring breakfasts? How about a pizza? It is not at all time consuming and exhaustive. With every ingredient easily available in your kitchen, you can easily rustle up this delightful Italian delicacy and surprise your family.
What's delightful with these pizzas is that you can top them up with fillings of your choice. Anything from tomatoes to fresh herbs makes this dish savory. This easy recipe of Breakfast Pizza will surely find a place in your cookbook:
Preparation Time
20 Minutes
Cooking Time
10 Minutes
Total Time
30 Minutes
Ingredients
For Pizza Dough
1. 1 cup self raising flour or any other kind of flour
2. 1 cup potatoes – boiled and mashed
3. 1/3 cup butter
4. 1/2 teaspoon baking powder
5. A pinch of salt
For the Topping
1. 1 cup frozen hash brown potatoes, thawed
2. 1 clove garlic, chopped and minced
3. 1 pound pork or beef sausage
4. 3 eggs
5. 1/3 cup preferably fat-free milk
6. 1/2 teaspoon salt
7. 1/4 teaspoon black pepper freshly ground
8. 1 tablespoon olive oil
9. 1 cup preferably Mozzarella cheese, grated (shredded cheddar cheese can also be used)
10. 1 cup Parmesan cheese, grated
11. 2 cherry tomatoes halved lengthwise and sliced
12. 1/2 cup fresh basil chopped finely
13. 1 teaspoon mixed herbs
Procedure
1. For the pizza dough, rub butter into the flour till it resembles breadcrumbs.
2. Add mashed potatoes, baking powder and salt to the flour mixture.
3. Knead into a dough using water or milk as required.
4. Preheat oven to 375°F.
5. Heat a nonstick skillet with a few drops of oil.
6. Add hash brown potatoes, garlic, cheddar/ mozzarella cheese and sausage and cook for about 2-3 minutes.
7. Mix eggs, milk, pepper and mixed herbs in a bowl.
8. Grease a crusty pizza plate with a few drops of olive oil.
9. To assemble the pizza, place the pizza dough in a crusty ovenproof plate.
10. Pour this egg mixture over the pizza dough.
11. Then, pour the potatoes mixture, and top it with cherry tomatoes and the remaining Parmesan cheese.
12. Bake for about 10 minutes or until the cheese melts.
13. Serve hot sprinkled with basil and sauce of your choice.