When you are visiting Mumbai next time, ensure that you visit The Moving Cart – restaurant. It is double-decker moving bus restaurant – can be called restobus. Called The Moving Cart, this 20-seater restobus is a joint venture between the Maharashtra Tourism Development Corporation Ltd. and The Moving Cart Company that already runs another such restobus in Chennai. This multi-cuisine moving restaurant has an open-to-air sky deck and magnificent air-conditioned lower deck restaurant. One can enjoy splendid atmosphere throughout the ride which takes around 90-minute.
There will be 3 organized voyages in a day. It drives at a comfortable speed of 30Kmph so that one can cherish the food and enjoy Arabian sea-view during its 4-km ride. It also has one of the luxurious & elegant sitting arrangements. The food will be catered by Hotel Marine Plaza with all the frills.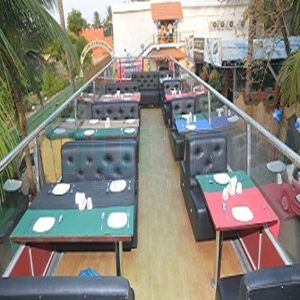 On lower deck, one can choose the favorite song from playlists & dedicate to partner thereby making the dining voyage most memorable for you & partner. They serve variety in dining experience with multi-cuisine dinner starting from mock-tails, soups, salads, main course and finally a desert to complete healthy meal.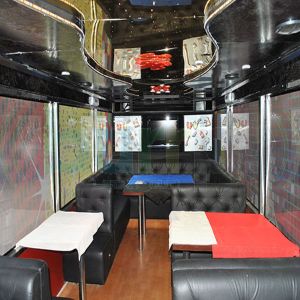 The entry to The Moving Cart is only based on prior online booking on their website.