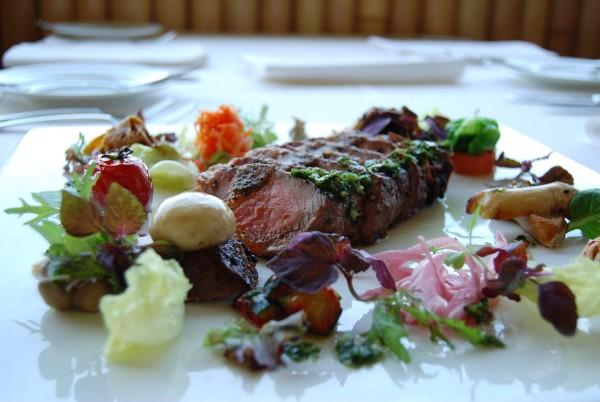 Oahu is the timeless beauty for Hawaii with all the luxury of a modern time. Oahu has Honolulu hence, is the center of the urban culture in Hawaii. It also boasts of some award winning chefs and restaurants to pamper your palate. Here are some of the best dining options when you decide to soak yourself in the sun at the pristine Hawaiian beaches at Oahu with the astonishing food. Read on.
1. Alan Wong's Restaurant
One of the best dining options at the island of Oahu Alan Wong's restaurant has James award winning chef to win your heart with its delicious servings. Full of fresh green salad leaves, vegetable and fruits Alan Wong's restaurant has an array of delicacies to serve. There are half a dozen single estate Hawaii coffee in the after dinner menu of this restaurant. Don't forget to have the summer truffle and moi. For deserts, the home grown chocolate is used with various ingredients like Irish Whiskey and apple bananas, a must-have when you are dining at Alan Wong's. Even though the restaurant is based on the fourth floor of an office building, anyone can tell you where it is.
2. Stages
Stages, a new restaurant in Honolulu with designer furniture, has Chef Jon Matsubara to treat you with his culinary skills. Known for its food with finesse and power, Stages is one of the finest dining options in the island of Oahu. Don't forget to have desert by chef, Mark Okumura, one of the top pastry chefs in Hawaii. Stages also has a high-tech wine bar next door in case you opt for a less formal meal.
3. Nobu Restaurant
If you are looking for an urban, young, chic and casual place then Nobu is the place for you. Designed to resemble a Japanese fisherman's basket is one of the finest dining options in Oahu in Hawaii. Nobu has an outstanding sushi bar and beautiful lighting fixtures. Nobu also has the priceless possession of the master chef Nobu Matsuhisa, who has virtually influenced all Hawaii chefs with his sashimi salad. Don't forget to have his miso black cod, a familiar Hawaii dish and the ponzu with the deft touch of the master chef.
4. Kaiwa at Waikiki
If you are fond of Japanese food then Kaiwa brings the Japanese cuisine to Hawaii. Kaiwa is different from a regular Japanese restaurant and is designed artfully with one tiled wall shimmering with a thin cascade of water. Kaiwa is at New Beach Walk Centre and is known for its sushi, tempura and inventions from its teppen grill. You can try Akashi octopus or Tsubugai with pesto sauce. Tokkuri of Dewazakura Oka sake and Japanese hamburgers are must-haves in Kaiwa.
5. Side Street Inn
Side Street Inn is one of the best and most reasonable places to eat in Hawaii and is also the place of the top chefs to unwind. Side Street inn has a well chosen wine list, fried rice, poke, grilled pork chops cut into strips, also some salad added in recent years in its menu.
6. Little Village Noodle House
You will find lots of Chinese restaurants in Honolulu. However, Little Village Noodle House is one of the best with its reasonable price and over 100 items in the menu. There is sea food, yummiest of non-vegetarian foods and even the vegetarian moo-shu rolls are worth getting indulged into. There is no bar in the restaurant but you can bring your own bottles.
7. MAC 24/7
MAC, the Modern American Cuisine is open 24/7 and is the best option if you are looking for a classic place for dinner. The restaurant has clean, white ambiance with comfortable red booths. Good soul food and a full bar is what to expect from MAC 24/7.