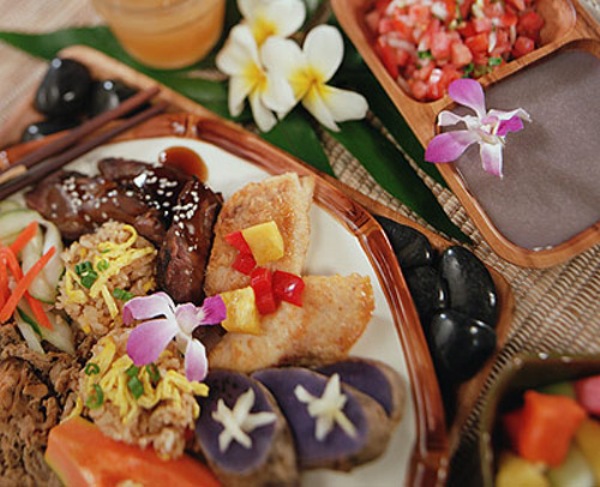 Kauai is the oldest island in Hawaii and is situated at northernmost corner of the Hawaiian Islands. Kauai island has splendid natural beauty and romantic as well as outdoor adventure escapades to offer you along with its yummilicious cuisine. The Island offers you the retro 60s delicacies as well as the modern cuisine, a perfect combination of the old world charm with the contemporary food. On one side you can find seafood and salad bars. and the modern or vegan delicacies on the other. If you want to explore the cuisine of the pristine island of Kauai, here are some of the best dining options.
1. Roy's Poipu Bar & Grill
If you are looking for regional Hawaiian cuisine, Roy's is the only option in Kauai. Located at an oddly angled room in a shopping center, Roy's serves the cuisine that is a mixture of Asian ingredients with French technique. Food at Roy's is exciting and a feast to your taste buds. Some of the exotic mouth watering delicacies at Roy's are baby black ribs cooked with Szechwan spices, Mahimahi cooked with lobster cognac butter, and the ponzu hibachi salmon. The chocolate souffle cake with a hot, molten center is a 'must-have' foodie delight.
2. The Beach House Restaurant
If you want to watch the setting sun and eat in a romantic ambience, the Beach House Restaurant is where you should head towards. The Master Chef will serve you the roast duck with porcini risotto cooked in Chinese style; and the delicious salads are not to be missed. The Beach House is one of the best dining options in Kauai.
3. Hamura's Saimin
Honored with America's classics award by the James Beard foundation, Hamura's Saimin is an institution in itself and is located in a back street that seems to have frozen sometime in 1950s. There are wooden counters with wooden backless stools and plastic menu cards. The choice is limited but the food is great and fresher than rest of the places. Little Hawaii-style kabobs of beef or chicken or Passion fruit chiffon pie are a must to have. With the price being reasonable, Hamura's Saimin is one of the best dining options in Hawaii.
4. The Blossoming Lotus
One of the most prominent restaurants that also represents Kauai's new age culture is The Blossoming Lotus. Lively and large, The Blossoming Lotus serves the vegan and organic food. The wine list is also organic. Try Rockin' Moroccan Tofu with preserved lemon and truffle sauce or Super Shakti Spanakopita. And for dessert, don't forget to have extraordinary chocolate pâté made from unprocessed organic Ecuadorian cacao.