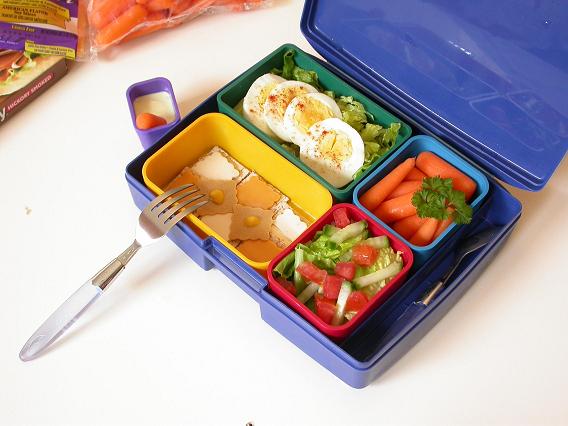 The diet and nutrition value varies amongst the children of different age groups. For instance, a child of seven years would love to eat noodles whereas a child of fourteen years would love to eat something extra spicy. This is when your child's taste and your taste differs. It is essential to inculcate right food habits in your child at right age. Stuff the lunch box with healthy food and make it attractive to appeal to your picky eater. Here are a few handy tips to help you out.
1. Don't pack bread everyday
Don't directly pack your child's lunch box with bread. Try to make it something extra ordinary like toast the bread. Apply some butter to it then with the help of a cookie cutter shape out the bread and stuff the bread with lettuce leaves or bacon or a healthy sandwich spread. Try to give your brown bread instead of white bread because brown bread is made out of wheat flour with all the natural nutrients in it whereas the white bread is made out of refined flour which tends to harm your child's health and is less in nutritional value.
2. No ready-to-eat, please!
Never serve your child with ready made noodles which are easily available in the market. When making noodles put veggies like carrots, beans, peas, minced meat, or eggs. These vegetable and meat is not only nutritious but also provides your child with enough energy.
3. Make according to your child's liking
If your child is fussy about eating a particular food, try serving the same with differing ingredients or presenting it in a different manner.
4. Make simple food attractive
Don't provide your child with normal pasta, try to bake the pasta with some extra vegetables and cheese. As baking not only reduces the oil intake but also keeps the nutrition value intact.
5. Light lunch
If your child prefers a light lunch try to make fruit cocktail sticks with seasonal fruits. Like use orange and apple during winters. Team up pineapple, mangoes, litchis along with cottage cheese during summer. As this not only makes a fancy lunch for your kid but also provides energy.