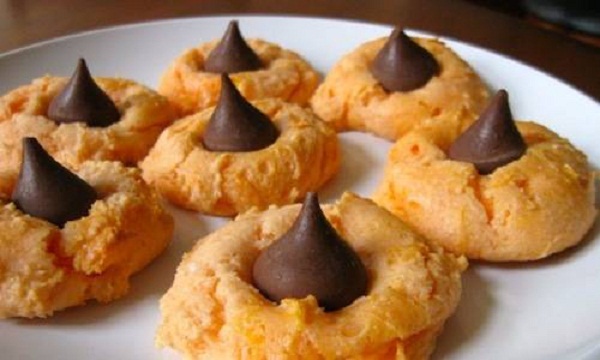 Halloween has so much to offer, especially when it comes to creative and kid friendly activities such as carving pumpkins, designing costumes, making haunted houses or baking cookies at home. In addition, home-baked cookies have always been a fall favorite. Cookies baked in home always beat the store-bought Halloween candies. Kids just love to help prepare the cookie dough and then cutting it with cookie cutters. Making cookies at home are fun holiday projects, which are not complicated, as they do not require any special equipment or ingredients. In fact, most of these recipes can be prepared on a whim and that too without a special trip to the craft or grocery store. Below are few delicious recipes that are capable of tempting everyone.
1. Funny bones
Your kids are definitely going to enjoy this tasty treat not just because these Halloween cookies are absolutely delicious but also because they will be able to take an active part in its preparation. These cookies are made in the shape of bones, which are an absolute delight for the younger kids. Your kids will have an opportunity to create skinny phalanges, giant femurs and other types of assorted bones using different sized pretzels and marshmallows.
Even if you do not have marshmallows of various sizes then also you do not need to get disheartened; there are some simple tricks, which you can employ. For instance, you can try snipping the end of each marshmallow with a pair of scissors that makes it divide like the end of a bone. However, you need to be careful while handling pretzels as they break very easily (even in adult hands).
Therefore, it will be beneficial if you have plenty of extra pretzels on hand. Next, comes the turn of dipping these bones into the chocolate which is not a very complicated task, but it does requires some patience and a gentle hand. Therefore, it is very likely that your younger kids will have a little trouble with this or it may even happen that they will get bored doing this stuff.
2. Monster eyeballs Halloween cookies
You can assure a greater participation from your kids in the preparation of monster eyeball cookies. You can ask your kids to mix this dough using their hands; they are certainly going to enjoy this activity. However, bear in mind the fact that where there are kids, there will be a mess, so you may even have to take care of this situation.
You need to refrigerate this dough for about an hour, but if you are running short of time, then simply pop this dough in the freezer for thirty minutes. In addition, it will be safe to keep your kids away from skewer as they can hurt themselves. In fact, rather than using skewers, you can provide forks to the younger kids for dipping the eyeballs in the chocolate.
Just make sure that you fill up the holes made by the fork tines, afterwards. However, if the younger kids are having problem in leaving an opening for the cornea then try something else. For instance, covering the entire ball with chocolate and then finishing it with an M&M iris will work equally well.
3. Glowing Jack-o'-lantern cookies
Nothing could be more exciting for kids rather than breaking stuff, then why not utilize this "ultimate talent" according to your requirements. For making these Halloween cookies, the candies need to be crushed. Just ask your kids for a favor and handle these candies to them for crushing, they are certainly going to love this, obviously when do parents hand a hammer to their kids and say break this?
However, you even have the liberty of crushing these candies in your food processor if you prefer to do so. However, it will be advantageous not to involve kids while rolling out dough, as they will create more mess than helping. It is better to have your kids involved in the process while cutting out the pumpkins. Just give a butter knife to your kids and let them cut the pumpkins in any shape they wish. This will be a great opportunity of showing their creativity.
Pumpkins can take any shape that your child can imagine; they can be tall and skinny or short and fat. You need to bear in mind the fact that the holes made for the nose, mouth and eyes will shrink as the cookies puff up in the oven, so you need to exaggerate these cutouts.
Looking for more Halloween inspired ideas? Here are a few more dishes you can try
Halloween inspired snacks you can spook your guests with
With the onset of Halloween, everybody is busy deciding on the choice of customs or home decor that will go with the Spookiest night of the year. It is also the night when you will have many guests coming home for either trick or treating; or just to hang out. If you are planning to have a Halloween party this year, spook your guests with some recipes and food art that blends in.
Spider designed cupcakes
For your dessert, you can make cupcakes with a little twist. While decorating each cake, make a few legs out of chocolate and place them by the side. For the eyes, white almond candies with a little edible black paint will do the trick. If you want, you can also make the eyes using white chocolate.
Egg eyeballs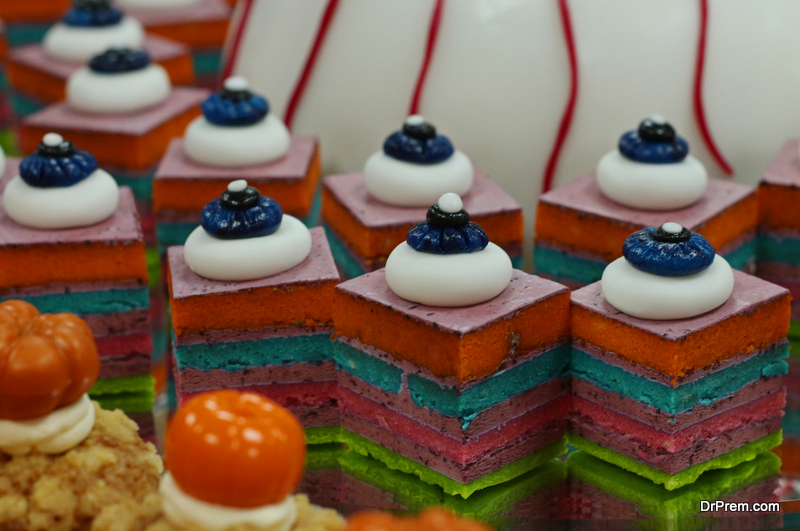 Give a Mexican twist to boiled eggs by adding green olives to make them resemble eyeballs. If you want, you can also add fine lines of ketchup to make it look like blood. Another variation with this idea is to make a salad of eyeballs with some red sauce pasta.
Hot dogs become hot fingers
You can give a Halloween flavor to the all time favorite hot dogs by making them look like fingers. Cut thin slices of almonds and place it on one side. Pour in the sauce so that it looks like blood.
Spooky chocolate fingers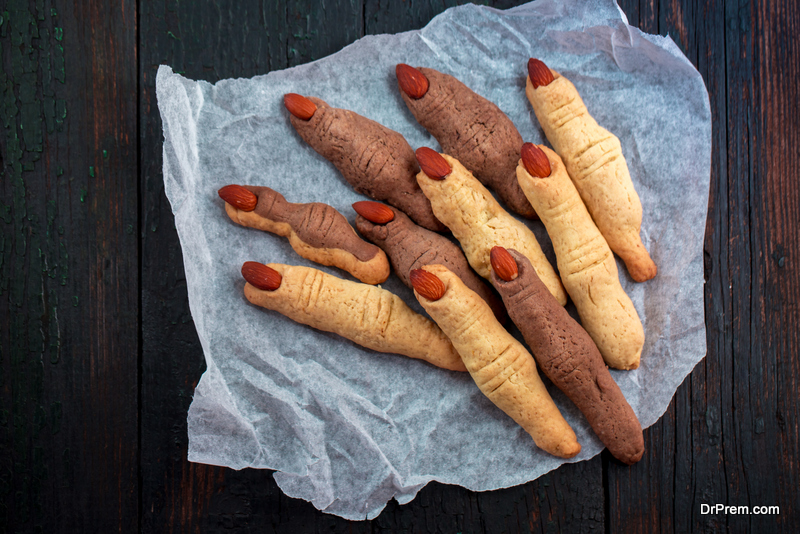 When Halloween time is around, kids go wild since they get to eat their favorite candies. If you are good at making chocolates, you can surely use this inspirational idea. Design the chocolate so that they look like fingers with white chocolate. For the nails, you can use brown chocolate and cut them accordingly.
Yummy bite sized ghost cakes
Another interesting food art is the bite sized ghost cake that has a white layer of mazepine with small a pair of eyes. You can design the marzipan icing to make it look like a bed sheet or a white cloth. You can also consider making small sized cakes that look like skeletons and give a white icing around it.
Food finger sandwiches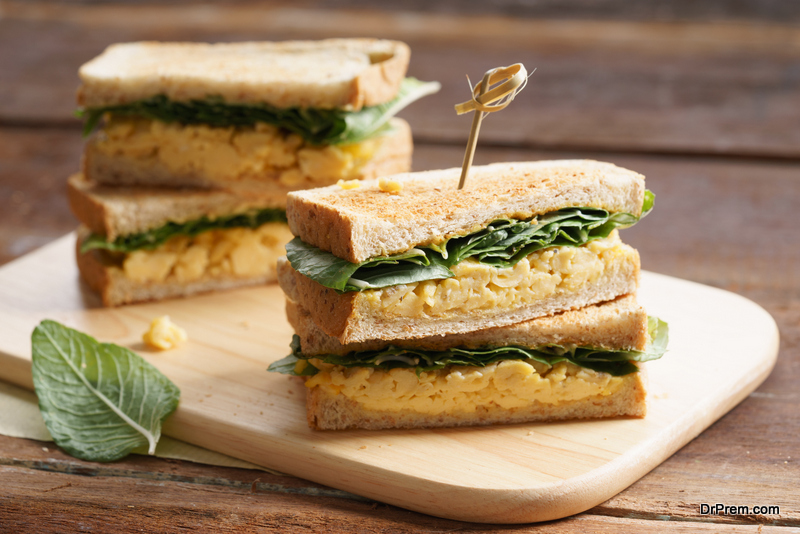 Everybody loves sandwiches but this is a little twist to it. You can make sandwiches that are small and look like the fingers. To give it a realistic look, pour a little ketchup on one side of the sandwich and place almonds to make it look like fingernails.