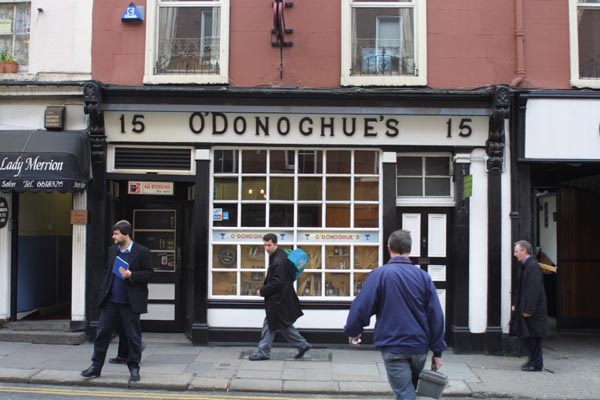 Pubs in Dublin, the capital city of Ireland, are like Christmas presents. This is the best place in order to wind down stressful day or to have get-together after exams. If new to the city, one should not miss out the local folk songs. Irish pubs blend liquor, music, entertainment and warmth of the people there perfectly. Some of the Dublin pubs brew their own liquor, to make it all so unique. Here is a list of best pubs in Dublin.
1. O'Donoghue's
This is the place that put the Irish musical legends 'The Dubliners' in the spot light. Such a landmark in Dublin, O'Donoghues's does the perfect marriage of music and liquor. Their live folk musical shows are great entertainment and will give you a warm feel of Irish culture. A pub not to miss!
2. Sean Kavanagh's
This pub is also known as 'The Gravediggers' due to its proximity to the huge Glasnevin Cemetery. It's apt for a casual night out, where you would be surrounded by friendly Irish folks. This must-see pub has no modern appliances and yet gives tough competition to modern pubs. Here the point is also available for much cheaper rates.
3. Kitty O'Shea's
This pub is actually an Irish theme pub and a great place for a crazy night. It also marked its place in Paris, Galway, Brussels and Boston. This pub offers hyped-up ambiance, live music, gaming areas, karaoke specials, offers lunch and much more. Even though not a traditional pub, Kitty O'Shea's is full of Irish charm.
4. McDaid's
This classic Dublin pub located in Harry Street is small in size, but makes up for it by its artistic interior. Usually the place is very crowded since it is in the center of the city, but you can have a little peace if you head up to its first floor.
5. The Hole in the Wall
This pub is situated in Black Horse Avenue. It looks like a building train, since it is long bar made by linking several old houses. It has a genuine Irish décor. The place is full of warmth, quality food and drinks. The main attraction of this pub is its construction alone.
6. The Brazen Head
All at the same place – great historic value, friendly staff, mouth-watering food and live music sessions. A pub at Lower bridge, this pub is the oldest pub there.
7. The Auld Dubliner
In the center of the ever-so-busy Temple bar, it is a lively pub. The Auld Dubliner's daily live Irish music shows are entertaining, you could get along with most of the people there. It's a great place for socializing and having a group night out.
8. The Long Stone
At 10-11 Townsend street, The Long Stone is a pub which has a Celtic-style interior showcasing Viking statues, things used for war and a very active fireplace. This popular pub is a local hangout for people of all ages. Good choice for a casual night.
9. Messrs. Maguires
In the busy area of Burgh Quay, the pub Messrs. Maguires is an advanced pub with its three levels, great crowd. It has music sessions, sports telecasts and it has its own Micro-Brewery. So, Messrs. Maguires is a nice place for reunions with in-house made pints.
10. Mulligan's
Mulligan's at Poolbeg Street is the most welcoming pub for tourists. As one of the oldest pubs in Dublin, Mulligan's is for a cozy time out, surrounded by warm local people, without all the fuss.