Dessert is the favorite dish for most of the people. Sometimes it so happen that you are tired of complex desserts and want something which is light, tasty and also easy to make. Raspberry swirls sweet roll, is one of them! It is a combination of bread, fruit and cream and the time taken to prepare it is also less. It has three types of preparation, dough, filling and the glaze. This article is to assist you in the preparation of this delicious roll.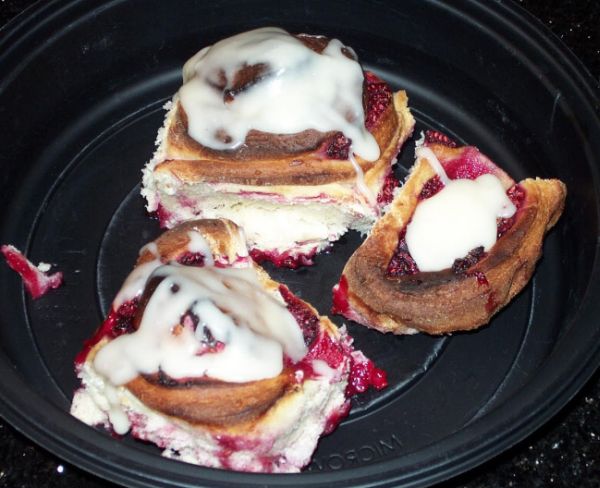 Complexity Level: Easy
Time taken: 5-6 hours
Ingredients:
1. For the dough
Milk- 1 cup
Sugar- 2/3 cup
Yeast- 1 /2 tablespoon
Butter(unsalted)- 1 stick
Lemon zest(finely grated)- 1 teaspoon
Eggs- 2large
Salt- 1/2 teaspoon
All purpose flour for the dough and also for making purpose- 41/4 cups
2. For the filling
Raspberry- 10 ounce
Sugar- 1/4 cup plus 2 tablespoons
Cornstarch- 1 teaspoon
3. For the glaze
Confectionery sugar- 3/4 cup
Butter (Unsalted)- 3 tablespoon
Cream- 1 1/2 tablespoon
Process:
a. Making of the dough
Warm some milk in a saucepan and bring it till 95 degrees. Pour this milk in a bowl and add sugar and yeast to it. Let it be there till the yeast gets foamy. Then add the remaining ingredients along with the dough and beat it till the dough forms into a soft and supple mix.
Knead the dough for the next ten minutes and then transfer it into a bowl which has been buttered. Then, cover it with a plastic wrap and place the bowl in warm water till the dough raises to its double.
Once the dough is ready, butter a pan and then using a rolling pin, make a rectangle out of it.
b. Making the filling
Toss the raspberries with cornstarch and sugar in a pan. Then spread the filling evenly on the dough. After that, roll up the dough quickly and cut the roll into small quarters.Further, cut each quarter into four pieces and place them inside the baking pan with the cut side facing upwards. bake it for two hours till it is fluffy and the pan is fully filled.
Keep the oven preheated to the temperature of 425 degrees. You have to bake till the raspberries are bubbling. After you take it out of the oven, place it in another pan and let it cool for some 30 minutes.
c. Making the glaze
Whip the sugar with cream and butter to the consistency where it is thick and can be spread.
Upturn the roll and peel of the paper. Apply the glaze on each roll and then you can serve it warm.
Tips:
You can use a variety of fruits like strawberries or any berries and even cherries to enhance the flavor.