Name of the dish: Baked pork chops and vegetables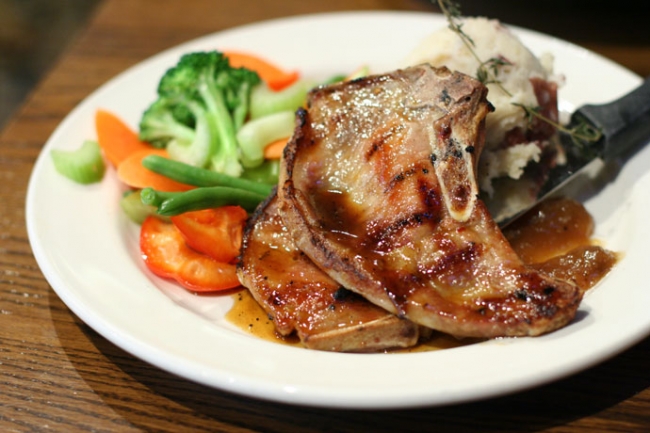 The pig has been known to be domesticated from 5000 B.C. and it is one animal whose entire body is edible. This is the reason why pork dishes has seen many evolutions and variations since then. Pork chops is one such variation. They are usually served as main course and can be of any variety – grilled, roasted, baked, fried, etc. Baking is one of the most healthy ways of making pork chops. It usually contains a rib or a part of the pig's vertebrae.
Complexity level: Easy
Time taken: 70 mins to cook and 15 minutes for preparation.
Ingredients
Pork chops, center cut, four
Olive oil, two tablespoons
Green beans, two cups
Button mushrooms, one packet
Small potatoes, four, cubed
Potato soup, one can
Sour cream, half cup
Marjoram leaves, dried, one-fourth teaspoon
Salt and pepper
Process
1. Oven should be preheated to 350 degrees Fahrenheit. Oil is to be heated over medium heat. Then, pork chops, which have been sprinkled with salt and pepper, should then be browned for around five minutes, till done.
2. Then, after placing pork chops on a roasting pan, place vegetables around it.
3. Take a medium sized bowl and blend the soup and sour cream in it. This is then poured on the pork and vegetables in the pan.
4. The pan is to be covered with foil and baked for about 30 minutes. Then, it is to be uncovered and baked for about 20 to 25 minutes till the pork is properly cooked and the vegetables are nice and tender.
5. Serve hot.
Tips
1. You can add and remove the vegetables according to your choice and taste. Options can be onions, green peppers, broccoli, carrots, etc.
2. You can alter other parts of the recipe according to choice once you are familiar with the basic method.