We all like appetizers and if it is goat cheese and tomato tart then it makes your day. Made with tomatoes, a thin layer of mustard sauce, and fresh herbs, this tart is a light meal which you can enjoy with a glass of wine. You can use your favorite herbs to prepare your tart. This dish was mainly from France. But these days, goat's cheese production is not limited to France as there are many British cheese-making companies, which are doing fine with their products. This tart is very special as it is the easiest tomato recipe, a great starter or you can use it as a main course with a salad.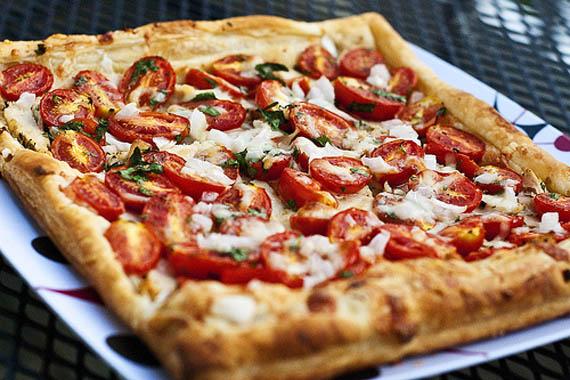 Complexity level: Easy
Time taken: 27 minutes
Ingredients
1 sheet tart
1/3 cup mustard sauce
4 medium sized sliced tomatoes
Salt for seasoning
1/4 teaspoon powdered black pepper
1 cup crushed goat cheese
1/4 cup chopped fresh herbs (parsley, rosemary, basil, marjoram and thyme)
Process
First, preheat an oven to 425 F. Spread tart sheet into a 10-inch tart pan and bake it for 15 to 20 minutes until it puffs and turns golden brown. Take it from the oven and let it cool.
Spread the mustard sauce evenly over the browned tart, leaving 1/2-inch of the edges empty. Spread the tomato slices over the mustard. Sprinkle salt, pepper, goat cheese and herbs on the tart. Serve the tart hot or chilled.
Tips
It is a very healthy dish as tart is made up of wheat flour, cheese and tomatoes. There are also many herbs used in it and it is also oil free. So you do not have to worry about weight gain, prepare it and enjoy it fully with your family.