As we all know, breakfast is the most important meal of the day. A person should take adequate breakfast to stay active for the rest of the day. People often tend to skip breakfast due to a busy schedule, which has negative impact on their health. If you are among the busy souls, you should always keep a few healthy low-carb recipes handy for your breakfast, which are quick and easy to prepare. Here is a description of five best low-carb breakfast recipes to give a healthy start to your day.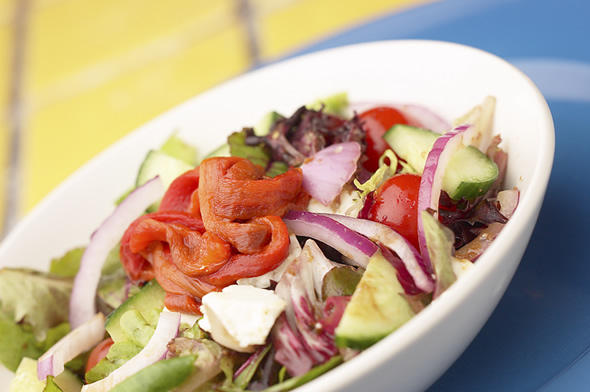 Breakfast Parfait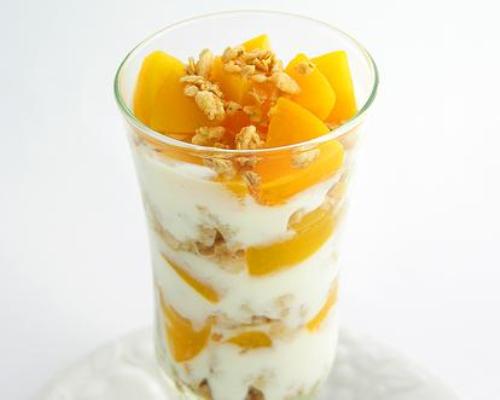 Parfait is a low-calorie desert. It is a rich creamy, fruit filled breakfast, high in vitamins and calcium content. Parfait is delicious and very easy to prepare.
Time required: 10 minutes
Ingredients:
Low-fat plain yogurt or low-fat cottage cheese – ¾ cup
Papaya chunks, pineapple chunks, and/or peaches – 1 cup
Toasted wheat germ – 2 teaspoons
Preparation:
Slice papaya and pineapple into small sized chunks. Place plain low-fat yogurt or cottage cheese into a small bowl. Add fruit chunks on the top and mix. Sprinkle with wheat germ and serve.
2. Breakfast taco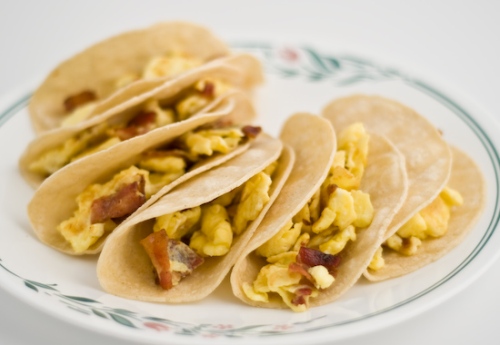 Closely related to burrito, breakfast taco is a sufficiently heavy meal made with low-fat cheddar cheese and egg. Taco is quick and easy to prepare and has the right amount of nutrition – a low-calorie, low-fat breakfast option.
Time required: 15 minutes
Ingredients:
Low-fat cheddar cheese – 2 tablespoon
Corn tortillas – 2 pieces
Egg beaters – ½ cup
Salsa – 1 tablespoon
Preparation:
Add shredded cheddar and salsa to the tortillas and heat in the microwave for about 30 seconds to melt the cheese. Take a nonstick skillet and coat with oil or cooking spray. Add eggbeaters and place the skillet over medium heat until the eggs are cooked. Stuff the cooked scrambled egg between the tacos and the meal is ready.
3. Salmon and egg sandwich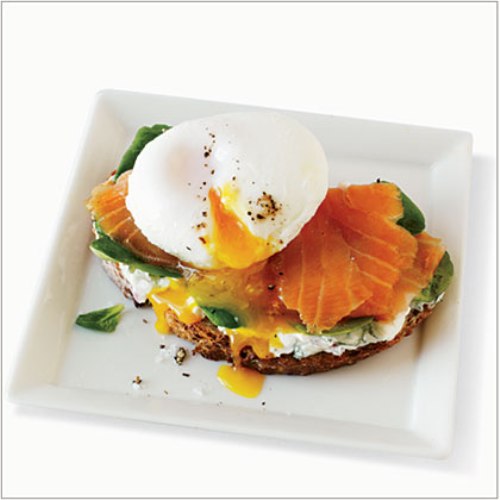 Salmon and egg with whole wheat bread can give a kick-start to your mornings. Salmon and egg sandwich is a nutritious filling morning meal, not to mention, a good source of omega 3-S.
Time required: 15 minutes
Ingredients:
Beaten egg whites – 2 large
Smoked salmon – 1 ounce
Chopped red onions – 1 tablespoon
Whole-wheat English muffin
Salt- 1 small pinch
Preparation:
Place a nonstick skillet coated with extra-virgin olive oil over medium heat. Add onions and stir for about 1 minute until it becomes soft. Add egg whites and salt, and stir for about 30 seconds and then remove from heat. Layer the cooked egg whites and smoked salmon on the whole-wheat English muffin to make the sandwich.
4. Spinach and cheese quiche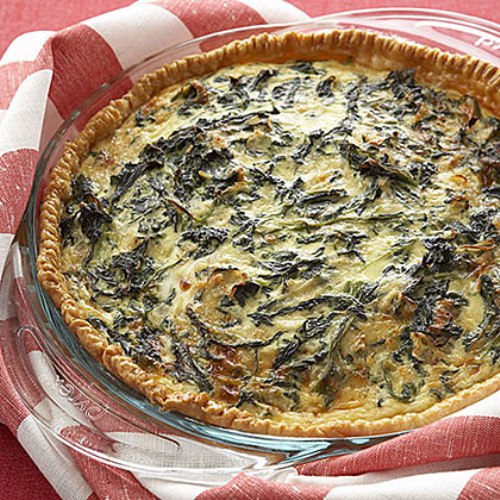 Spinach and cheese quiche is an extremely nutritious meal with low calorie content. Spinach is an excellent source of vitamin A and iron whereas low-fat cheese provides the appropriate taste.
Time required: 1 hour (including baking)
Ingredients:
Eggs – 2
Low-fat cheddar cheese – 1 cup
White flour – 2 tablespoon
Chopped frozen spinach – ½ packet
Diced onion – 2 tablespoon
Low-fat mayonnaise – ¼ cup
Frozen pie crust – 1 piece
Salt – to taste
Preparation:
Preheat the oven to 375 degrees. Combine eggs, flour, and low-fat mayonnaise in a bowl and mix thoroughly. Add diced onions, cheddar, and spinach into the bowl and whisk to combine. Layer the content into the pie crust and bake for about 45 minutes until the top of the crust turns golden brown.
5. Healthy breakfast/brunch casserole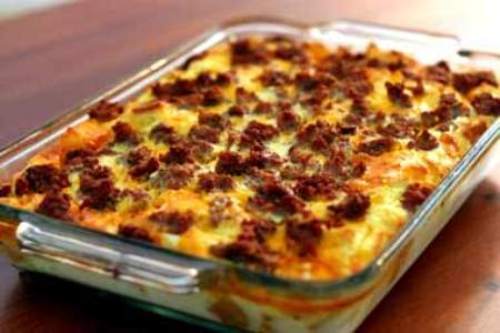 Healthy casserole is a perfectly balanced meal for breakfast. The content can be easily prepared a night before and refrigerated. Bake fresh in the morning for a delicious bite; you would definitely want to save some for brunch.
Time required: 1 hour 15 minutes (including baking)
Ingredients: (serving 12)
Eggbeaters – 15
Skimmed milk – ½ cup
Whole wheat bread – 6 slices
Ham – ½ lb
Chopped onions – ¼ cup
Chopped broccoli – 1 cup
Mushroom and green pepper – ¼ cup each
Low-fat cheddar cheese – 1 cup
Mustard sauce – 1 tablespoon
Preparation:
Mix onions, broccoli, and green pepper, and cook in microwave for about 3 minutes until it becomes crisp. Later add mushrooms to the vegetables and mix again. Place a non-stick skillet coated with oil, and place slices of bread. Top with cheddar, ham, and veggies in layers with cheese on the top. Beat eggs and mix with mustard sauce. Pour the mixture over bread slices and top again with cheese. Set the prepared material into the refrigerator and leave overnight. Later, take it out and set to baking at 350 degrees for about 45 minutes to an hour. Check if the knife placed in the middle comes out clean before taking it out. Keep aside for a few minutes after baking. Cut the prepared matter into 12 equal square shaped servings. You can optionally top the pieces with sauce of mushroom soup, slightly thickened with ½-cup skimmed milk.