Tanteo, the brand really proves its saying, "Taste the tantalizing world beyond ordinary tequila.." . From the cover of the bottle to the taste of tequila, perfection is maintained beautifully. At the first glimpse of the bottle, it gives you a clue that there is something really special inside. Unlike other tequilas in the market, its aged and old world look label will certainly draw eyes to the retail shelf.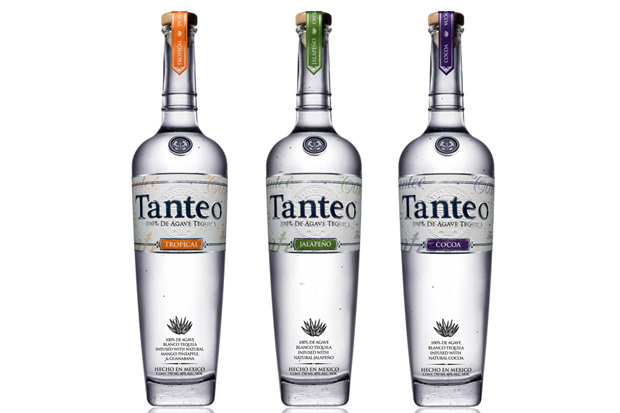 Tanteo tequila has three delightful flavors: Jalapeño, Tropical fruit and Cocoa. All of the three tequilas are one of best tequila, tasted or smelled ever.
The accurate ratio of taste and smell, correct and very thoughtful design of the bottles, shows the kind of perfection that is evident through the overall experience. When you buy any of these three tequila, you don't just buy any tequila, you buy a piece of art. What you smell inside is what you taste, which is very rare in case of other tequilas.
Jalapeño: The aroma of jalapeño takes us to a different level of delightful-ness. A never felt aroma can be expected from jalapeño flavor. Tequila is not just about the taste, it is more about the mesmerizing feeling that you get while drinking tequila. It represents your scale of perfection, and Tanteo, surely symbolizes perfection. The very first sip of jalapeño creates such a sensation in your mouth that the taste buds crave for more and as you take the second and the third sip, the sensation of pleasure goes beyond words.
The experience of Jalapeño, makes it difficult to be able to deny it when offered again in the future, as the taste of fresh fruit is undoubtedly flawless. Other products promise you great taste, but Tanteo ensures you a real piece of art. The amazing taste accompanied with great design, which shows the real appreciation of great taste and smell.
Tropical tequila: The next flavor Tropical tequila, an ultra premium tequila, infused with fresh cut mango and pineapple with a dash of jalapeño, gives us an amazingly pleasant flavor of fresh fruits with a gentle kiss of spice. As soon as you take the first sip of the tropical flavor and swirl it in your mouth, you tend to realize its hidden flavors and feel the genius behind it. Its taste certainly makes a completely different ground of appreciation for itself. The experience of tropical tequila certainly deserves to be called tequila-voyage. The thrill goes on as it flows down your throat, the tingly feel increases while descending the food pipe and you tend to achieve a state of pleasure. In all true sense it is a voyage, where you search for great taste and phenomenally great smell and pleasure.
Cocoa tequila: If you ever wanted to speak Spanish, then Cocoa tequila can teach you, says its label. Cocoa is a bottle of immense pleasure and combines absolutely correct amount of roasted, malted and raw cocoa. Its brilliant combination of taste and presentation makes it stand far ahead of other products anybody looks forward to. The ancient faded brown glass, that gives everything viewed inside a brownish-golden view, is very fascinating. The marriage of taste and smell is very rare, but with this tequila, you are sure to taste what you smell.
It can be one of the best companion of your evening any day. It is said that chocolates are dark and mysterious in nature, and so is the cocoa tequila. It gives you an incredibly different taste altogether. The taste, disconnects you from the world for a while, and makes you experience the best taste of your life. It is not just any cocoa, it is the most desirable cocoa.
Tanteo tequilas are more of an art than just tequila. From the design of the bottle to the aroma , everything falls under the category of perfect. Its new and genius flavors sets it way ahead of other tequilas and gives it an edge. It is just not another product, it is actually the appreciation of good taste. Tanteo, admires great tastes and appreciates people who enjoy tequila. So they don't just focus on ingredients, they also work hard to create a master piece. A perfect bottle of tequila, with such taste, is beyond reality. Consuming Tanteo tequilas is like a whole new journey in the world of fabulous taste and phenomenally great smell.