When it comes to lunch or breakfast, Sandwiches make a good and healthy option. Sandwiches are easy and simple recipe, which is healthy yet delicious. That doesn't mean you get to keep your sandwiches exiled from dessert. Sandwiches makes an appetizing desserts, that you and your family will love to eat repeatedly. Here are few such recipes for making dessert sandwich.
Marshmallow sandwich with caramelized chocolate and banana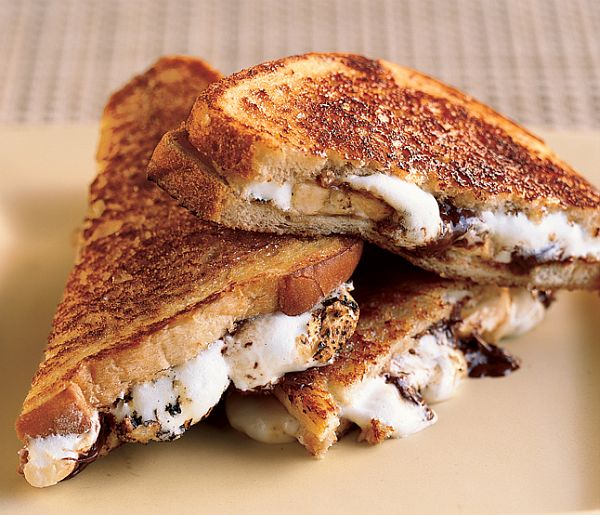 Image Source : Bonappetit.Com
Start by mixing butter and sugar in a bowl. Next, take a slice of brown bread, cut it into two diagonally, and spread this mixture on one side of each slice. Now place marshmallows on a slice after skewing it properly. You can use four to five marshmallows. Sprinkle some chocolate chips and top it up with sliced banana. Finish it off by sprinkling the butter and sugar mixture and cover it with another slice.
Rocky road ice cream sandwich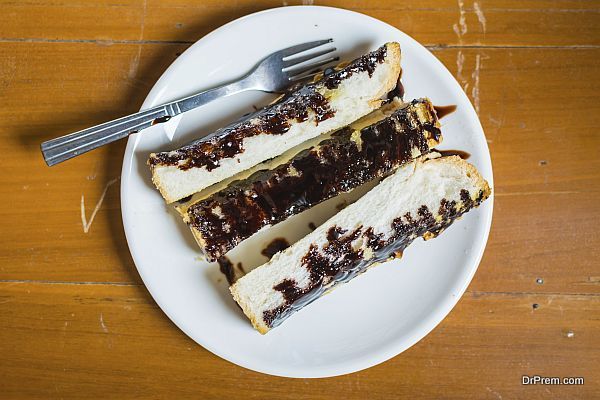 For making rocky road sandwich dessert, you need to start by placing butter crackers bottom side up. As you have placed all of them, take some melted chocolate and drizzle it all over the butter crackers. You have to do it upward and downward direction, to create line shape design over the crackers. Take out rocky road ice cream out of the freezer and place one by one scoop over the crackers. Cover one cracker with ice cream with another cracker and make few such sandwiches, so that you can enjoy many of them.
Honey, marshmallow, and chocolate grilled sandwich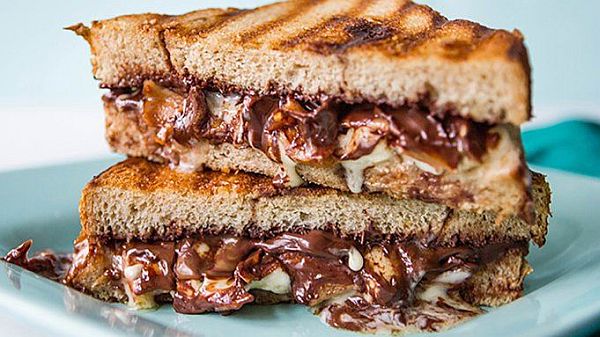 Image Source : AmazonAws.Com
Begin the process by heating a griddle. While it is heating, take two slices of bread and spread butter over it. After covering both the slices with butter, place some chocolate spreading over one slice and keep other slice for covering. Now on top of chocolate, put some marshmallows and top it up with a sliced banana. On top of banana, sprinkle honey and cinnamon. Place other slice at the top, put it on griddle, and cook it until it is crispy and golden brown from both the sides.
Pumpkin gingerbread ice cream sandwich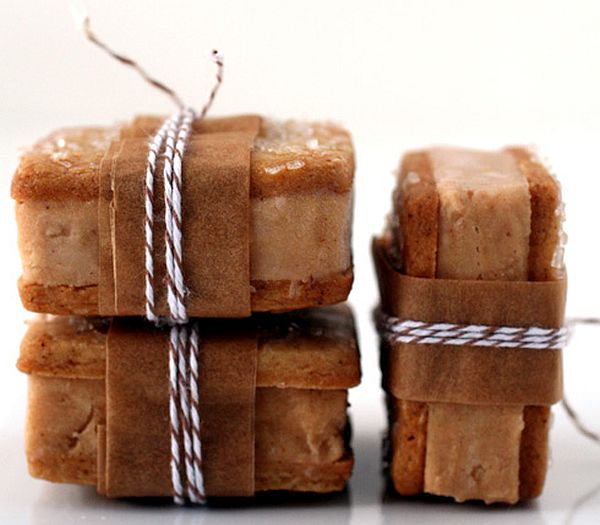 Image Source : CannelleVanille.Com
Take a saucepan and put it on flame. Pour milk, cream, milk caramel, and cinnamon stick to boil. Stir as it rises up. Turn off the flame and let it cool for at least thirty minutes. Now place it again on the flame on very low heat. Cook it for few minutes and remove after some time. Also, remove the cinnamon stick from the saucepan. Now put some yolks and sugar into a bowl and whisk it until it is pale and thick. Add hot milk and mix it slowly. Add pumpkin and vanilla and beat to combine them properly. Make a cold ice water bath and put pumpkin vanilla mixture into ice water bath. Place it in freezer and freeze it until it is hard. Now sandwich ice cream between gingerbread cookies before serving it.
Sandwich makes a delicious dessert that everyone likes to eat. Moreover, sandwiches are healthy and one can make it effortlessly.