Pizzas are popular all over the world and everyone likes to eat it. While pizzas are becoming everyone's favorite, adding variety and flavors to pizza sure does show the versatility of the food. As people are experimenting with pizza, adding some ingredients can make it a delicious dessert.
Below are such few recipes that can convert pizza into a yummy dessert.
Crispy apple pizza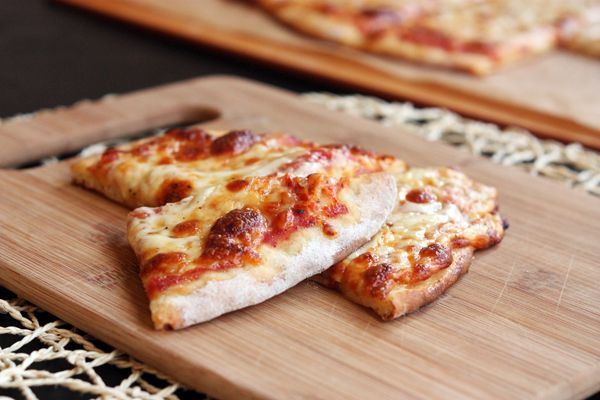 Image Source : 30PoundsOfApples.Com
For making crispy apple pizza, you need to get all the supplies first, which is pastry, sugar, flour, cinnamon, apples, oats, butter, and caramel ice cream. Start by rolling pastry that fits in the pizza pan. Combine sugar, flour, and cinnamon in a bowl, add apples, and toss. Now place apples on the top of the pastry in a circular pattern, so that it can completely cover the pastry. Now combine flour, sugar, oats, and cinnamon. When you have combined it properly, sprinkle it over apples on the pastry. Bake for forty minutes at 350 degree to get a crispy apple pizza. Take it out from oven and drizzle caramel topping.
Rocky road cookie pizza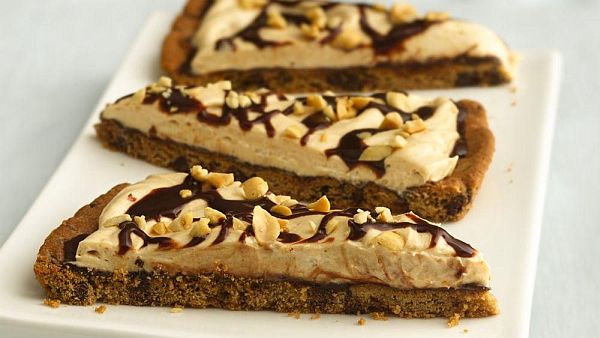 Image Source : AmazonAws.Com
Start by getting all the ingredients at one place, which is butter, peanut butter, sugar, brown sugar, egg, vanilla extract, flour, marshmallows, and semisweet chocolate chips. Take a bowl and mix butter, peanut butter, and sugar. Now put some flour and beat egg and vanilla in it. Stir well in floor until blended properly. After making dough out of this mixture, spread it on the pizza sheet and bake it on 375 degrees for 12 minutes. Now take tray out of oven, and sprinkle some marshmallows and chocolate chips over it. Your rocky road pizza is ready to serve.
Raspberry dessert pizza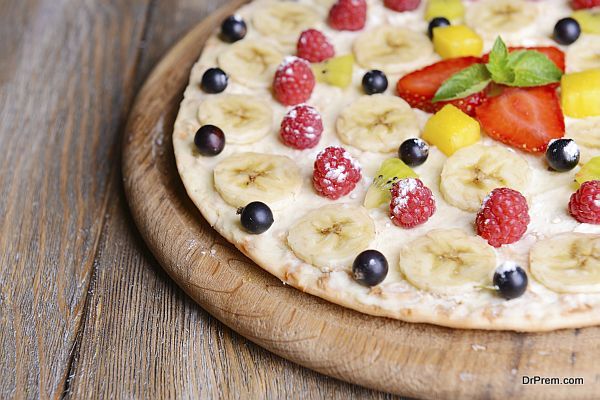 Begin by making dough out of flour and keep it aside for few minutes to rest. Roll the pastry fitting in pizza tray and place butter all over the pizza. Now pour some raspberry jam over butter all over the pizza. After your pizza is fully covered with jam and butter, place strawberries all over. After placing strawberries, sprinkle some rosemary. Now put it in the oven and bake it for 45 minutes. Take pizza out and pour honey over pizza. Raspberry dessert pizza is ready to eat.
Cookies and crème dessert pizza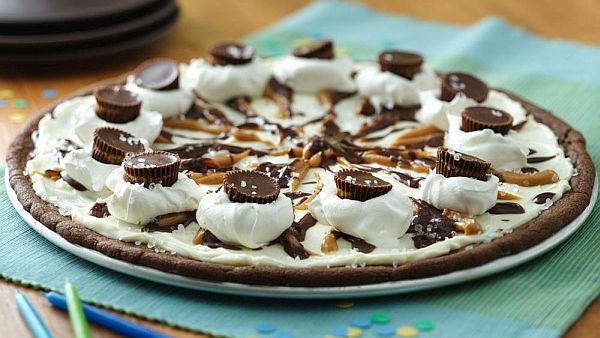 Image Source : Pillsbury.Com
Take a bowl and combine cookie mix, butter, and water in it. Mix and stir it well until it forms dough. Roll the dough and place it over pizza pan. Now put the dough in oven for fifteen minutes until it has brown crispy edges. Now take it out and let it cool for at least one hour. Now take another bowl and beat whipping cream until you see soft peaks. Stir some cream cheese frosting and spread this mixture evenly on top of pizza. For making it appealing, sprinkle some chocolate chips and cookie pieces. End it by putting some melted white chocolate.

Desserts complete the meal, and when a meal becomes dessert, it is an easy way to combine meal with dessert. Moreover, it reduces the workload of a person making the work easy, which one can do effortlessly.