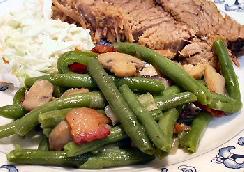 Thanks Bush brothers, for giving this simple yet creative way to bake beans. I have come across a couple of recipes with beans and bacon pairing, but this recipe is good as it is open to modifications.
While butter beans give a wonderful aroma after baking, it tastes delicious with canned tomatoes. Canned tomatoes along with a herbal seasoning will enhance the taste of bacons. You can go for red pepper and crushed garlic powder seasonings, instead of dry mustard which might give an acidic sting to the subtle flavors of the dish.
You will agree when I say that a bit of saucing up is required in butter beans with bacons. Dry bacons don't add much flavor to beans. However, your baked butter beans and bacon will taste good with soft rice and pasta.