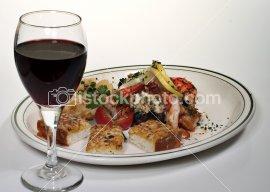 The food and wine blog relate more to related information than to actually cooking or eating. This blog not only presents information on variety of cuisine to choose from, but also informs the food lovers about the right combination of food and proper use of ingredients while cooking, apart from making them aware of the terminology related to cooking and serving.
Recipes are a passe now, as they can be found in any corner of the web (or is it, in every corner of the web?). But the food industry does not run on recipes alone. It has a lot to do with clicking with a new recipe. It's like a Mediterranean chef cooking Chinese recipes. Blog on food presents reviews of recipes and cuisines to equip the cook with precision while cooking. In plain words, instead of telling you how you must cook it, you'll be hearing on how they tried it and what it tasted like.
Coming to the wine part of the blog, it establishes a link with the wine lovers. It shatters apart a number of myths associated with buying and serving wine. Blog on wine is an indicator that one cannot become a wine expert on the basis of personal experience with a particular brand…it's got to do a lot with tasting a large variety of wines, getting to know about the methodology and familiarise one with the nitty-gritty of wining!