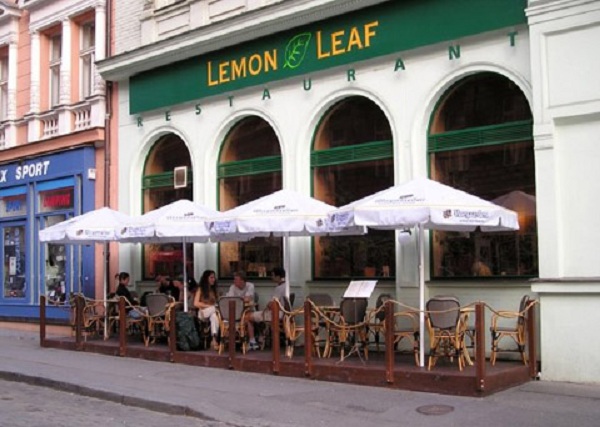 Lemon Leaf restaurant is an International Cuisine restaurant in Prague, which is particularly famous for its Thai Cuisine. The restaurant was opened in September 2002 and since then it has been famous with tourists and local residents because of its delightful delicacies and a wide range of dishes for every kind of palate. This restaurant caters to all types of food demands such as spicy, tangy, and traditional as well diet food. The soothing music along with good foods, refined lightings and large windows makes it a preferred choice. Availability of international and Moravian wines and beer is an icing on the cake.
Where is it?
It is located in Myslikova 14, Nova Mesto locality of Prague. This spot is a reliable alternative to European Cuisine because of its fine variety of Asian foods. Since, the Asian food is served quite a lot at this place, therefore one needs to be cautious about the red flames on the menu that represent the spiciness of the dish. You aren't a lover of spicy food, then you can select other savories from the entrée and main course that are good on your appetite.
What makes it the best?
The best thing about this restaurant is the variety of food that they serve. And it is not just the variety; it is also about the quality. The food here is prepared with right standard ingredients that do justice to the meal. It is a great value for money. Even if you visit here for 10 times, you never go out without a smile on your face.
Dinner menu changes monthly while the lunchtime menu has something new to offer each day, therefore a frequent customer never feels monotonous coming here. Whether you have goats cheese or roast spuds or even beefsteak, everything has appreciable quality. Fresh flavorsome food will force you to indulge in finger licking.
Top-notch dining
The restaurant is airy and has potted plants that make it refreshing. Soothing music calms your body before you decide to plunge into the delicacies. Lighting is soft and doesn't pierce the eye because of which your main focus becomes food and the delicate servings on your plate. Lamps make the dining area sophisticated and elegant. The food speaks for itself. Spring rolls take you to a trip to Southeast Asia while spicy noodle dishes remind you about your last trip to Thailand.
Good service and amiable waiters make eating a memorable experience. Top restaurant quality dishes are served on your table. If you are ever bored of the European Cuisine, then this restaurant would be an oasis and bring you the delicacies of Asia and other countries around the globe. Pastas and Risotto have a wide variety to choose from. Soups and Salads are not just for those on diets but also for food-lovers. Even Vegetarians can have an assortment of delicacies.
Even though the menu changes on daily basis, still a visitor can find some special foods. Soups such as Tom Yam Kai and Tom Ka Koong reflect the basis of Thai food and have the perfect balance of sweet, salt and sour. Entrée includes different variety of spring rolls along with preferred sauce. Baked Prawns are also a likable dish while a touch of almond in Koong Thot Almond makes this prawn dish a delectable delight.
Salads are also available as starters and the main course has a number of spicy curries to choose from. Fish and Seafood are delicately prepared which helps to maintain their basic flavor. Apart from Beef cooked at different rare, the poultry produce is also worth a try. And if your stomach is still not full, you can try several side dishes like Thai Jasmine Rice that has an aroma as lovely as the taste.
When you are done, the desserts make the whole eating experience memorable. Raspberries with vanilla ice-cream are a simple dessert that is a favorite. Various cakes are appealing and tasty. Fresh Pineapple with sweet Mascarpone along with coconut milk gives the European dessert a touch of Asian cooking. The foods are a treat.
5. Other attractions
If you are on a hunt of Thailand inspired food, then this is a place that you must not visit. Apart from this, this restaurant has tie ups with several other places such as NamJai which offers best Thai massages in Prague and is healing for body and soul. The healing massages would surely leave you to relax. Also, its tie ups with Thajsko Travel allow you to have some great tour packages in Prague and nearby areas. This is something you shouldn't miss.
Everything here hits the mark. Happy dining!