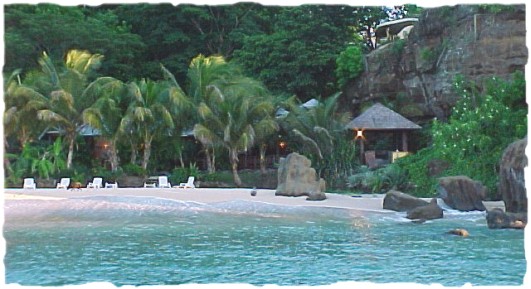 Grenada, the lovely "Island of Spices" in the Caribbean Sea, is home to a variety of beautiful beaches and other tourist attractions. However, in this write-up, we shall be focusing on, what is, not just arguably, but also by popular demand, the island's finest independent food-haven, the Aquarium Restaurant.
What sets Aquarium apart from the rest is the unique mix of crowd here. Corporate suited-up business men seated next to beach-frolicking tourists is not an everyday sight for most of us. And all of them come in search for the same things : the refreshing breeze of the ocean and a picturesque view of St. Georges. Evenings are tailor made to enjoy drinks with a group of close friends and family or to dine in style at the glorious rock-side dining room. Magnificent pieces of art adorn the walls and sculptures, placed at strategic locations, heighten the grandeur of the place.
To learn more about this food-paradise on earth, we urge you to read on.
Location and Contact Information
Address:
The Aquarium Restaurant
P.O. Box 496
St. Georges
Grenada, West Indies
Phone: 473/444-1410
Top Notch Dining
The ambience at The Aquarium Restaurant is what belies a carefree, enjoyable and fun-loving time. Fine exquisite wines from all over the world promise to soothe your senses and give you a never to be forgotten experience of the West Indian islands. These exotic liqueurs are stored in specially constructed temperature controlled wine cellars, which customers can visit and observe at their own leisure.The restaurant has a distinctive presentation of each and every dish served at their place. Every single meal proves to be a treat not just to the taste buds, but also to the eyes and the nose. Native ingredients are blended with other international spices to create something out of the ordinary : the restaurant's own original recipes, all yours to relish and savor! Callaloo Cannelloni, prawns in shredded coconut and lobster seasoned with ginger and garlic are few yummy items you simply cannot afford to miss.
What makes it the best

1. Plan your wedding here
The Aquarium restaurant is right on the shores of a beach; a beach which is perfect and seems to be made just for the purpose of couples to take their first step into marital bliss. It is said that uttering the two words "I do" looking into the eyes of your beloved, whilst barefoot in the sand, will be the most memorable thing you do in your life. You can choose to make it a really grand affair or just an intimate setting for close friends and family. And as a cherry on the cake, your preference in music, flower decorations, menu and cultural entertainment are given utmost respect. After all, it is the most important day of your life together.
2. Art
All pieces of art in the restaurant and the adjoining villas are works of renowned painter and artist, Rebecca Thompson. They showcase the sights and hues of the island of Grenada itself, through the creative and colorful palate of Ms. Thompson. Color, texture and form, as she puts it, have been her greatest teachers, and learning from them, she has beautifully captured picturesque art which adorns the Aquarium restaurant and all its affiliates. A must watch for any art enthusiast.
3. The Bar
Named the 'La Sirena Beach Bar', this is the perfect place to enjoy a chilled beer or a martini sheltered away from the sun's heat under lush palm trees on the well-built and elegant wooden deck. Open from the evenings throughout the week, except on Mondays, this is just a stone's throw away from the restaurant. To avail happy hours, do visit on Friday.
4. Hospitality
The restaurant prides itself on providing not just world class facilities and fantastic food, but also cheerful and friendly service too. The motto portrayed is 'With every refreshing drink, you get a smiling face too'. And such things don't come at a price; they are simply priceless. Local musicians are always to be found here, making the environment at the restaurant one of cheer and good will. You simply cannot manage to not catch the happy-happy bug yourself. The atmosphere is too ecstatically infectious for you to escape.
Other attractions
1. Fun activities
The restaurant also has facilities for snorkeling and kayaking, for a minimal fee. But do try them, as they are totally worth it. If you don't feel like doing anything, just apply your sunscreen all over and lie down under the sun, wearing your shades to get the best tan of your life.
2. Maca Bana
The adjoining luxury villa boutique resort of the Aquarium restaurant, Maca Bana is the quintessential getaway to revel in marital bliss and spend a romantic honeymoon at. It promises exclusive privacy with breathtaking views of the ocean, not only from your bedroom, but also from the hot tub, in each suite. Sounds lovely, doesn't it? Trust us, it is as well.You get to choose between a one-bedroom or a two-bedroom villa (called a 'bana' in the local language). The resort, on the whole, has two one-bedroom villas and five two-bedroom deluxe villas. The latter can be taken for either one or two bedrooms, depending on the customers' preference
Fully air conditioned, strategically located and luxuriously furnished, all the electrical appliances in these grand villas run on solar energy, reflecting the nature friendly outlook of the management. Guests are provided with mobile phones from the resort during their stay, doing away with the age old method of land line telephones.
Every single of the villas has a unique 'fruit theme', around which artistic gems and interesting decor revolve. Lush, green lawns interspersed with ponds and also a waterfall, thrown in for good measure, lend finishing touches to the serenity of this place.