There is nothing more comforting than having a slice of freshly baked pumpkin bread. The whole wheat honey walnut pumpkin bread is a mildly spiced, buttery flavored, moist pumpkin bread with the perfect crust. What more with each bite you get crunchy walnuts too. This bread is made of whole wheat pastry, flax seeds, canola oil, milk, wheat/oat germ and honey making it healthy. Let us see how to prepare it: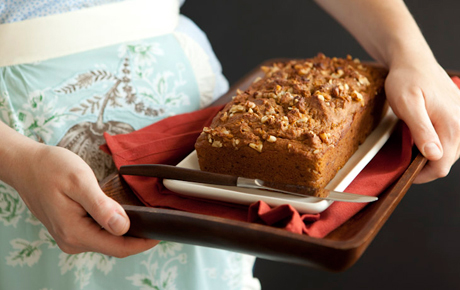 Complexity level: Moderate
Time taken: Preparation: 30 to 40 minutes, Cooking: 1 hour
Ingredients:
Pumpkin pie spice: 2 tsp
Pastry flour (whole wheat): 11/2 cups
Baking soda: 1/4 tsp
Baking powder: 1tsp
Wheat germ: 1/4 cup
Sugar: 6 tbs
Salt: 1/4 tsp
Milk: 1/3 cup
Honey: 1/3 cup
Canola oil: 1/3 cup
Pumpkin puree (fresh or canned): 11/2 cups
Walnuts (roasted and chopped): 1 cup
Flax seeds (whole): 1 tbs
Vanilla extract: 1 tsp
For the pumpkin spice
Cinnamon: 1 tsp (ground)
Nutmeg: 1/4 tsp (ground)
Cloves: 1/8 tsp (ground)
Dry ginger: 1/4 tsp (ground)
Process:
1. Preheat the oven to 350F. Grease a loaf pan preferably 8 inch pan and keep it aside. Take the whole flax seeds in a blender or a mixer, add 4 tbs water and grind to a smooth paste.
2. In a large bowl combine all the dry ingredients that is, flour, baking soda, baking powder, pumpkin pie spices,salt and wheat germ. Whisk well to combine thoroughly.
3. In another large bowl, combine the pumpkin puree fresh or canned, milk, oil, honey, ground flax seed, sugar and vanilla extract. Whisk all the ingredients till it forms a smooth mixture.
4. Add the puree mix (wet mixture) to the flour mix (dry mixture) and fold till thoroughly mixed. Add half of the walnut and mix again. Transfer to the greased pan. Top with more walnuts and cook in a preheated oven for 1 hour or till the tooth pick/skewer inserted to the center comes out clean. Remove from the oven. Cool for 5 to 8 minutes. Loosen the edges, invert and tap the pan. Cool the loaf in a wire rack till it comes to room temperature. Slice and serve warm.
Tips:
1. In case you do not have wheat germ you can replace it with oat germ or wheat flour.
2. Try using fresh pumpkin puree than canned.
3. Make your pumpkin spice just before addition for extra freshness.
4. Do not over mix the batter.
5. Cool the loaf completely before cutting to get perfect slices.
6. For better taste toast the slices with butter before serving.