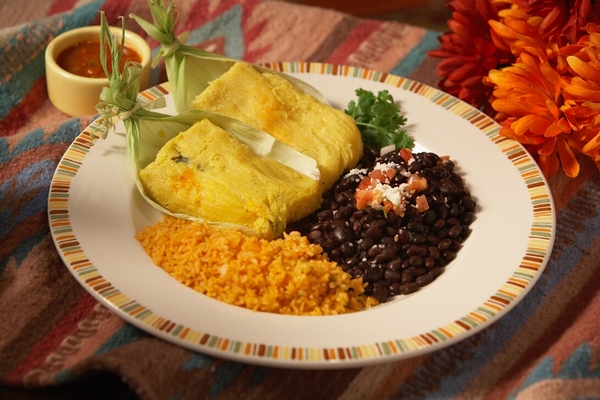 Tamales have always been a special dish for most of us and its mouth watering smell does it all. You can't resist your temptation for it. You can add to the flavor by using corns as an ingredient. It is a healthy option to prepare this dish with corns that are high in nutritional value. For example, Humitas is a kind of tamale that is made from fresh ground corn instead of masa. Use of corns in tamales will give it a smoky flavor and a nice sweet fragrance. Try out your creativity and make best use of corns with the tamales.
Here is a truly delicious recipe to cook tamales with corns.
Complexity level: Moderate
Time taken: It can take a whole day to cook this dish.
Ingredients:
1. One packet of dried packaged corn husk.
2. About three cups of masa harina cornmeal.
3. Two cups of the vegetable stock.
4. Four tablespoons of vegetable shortening to make your dish high in nutritional content.
5. Salt is must.
6. Two tablespoons of vegetable oil.
7. A large and finely chopped tomato.
8. About five green onion that are finely chopped.
9. Four ears of corns on the cob.
10. One tablespoon cumin to add flavor.
11. Two tablespoons of chopped fresh cilantro leaves.
12. Half cup of crumbled queso fresco cheese for the topping and as an ingredient.
Process:
Here are the steps that to need to follow to prepare your corn tamales:
1. Firstly, you need to place the corn husks in a large sized pot. Always remember to cover the pot completely with hot water, then soak the corns for about half an hour to make it soft.
2. You should be careful while cutting the corns from the cob. Use a sharp knife and set it aside.
3. Next you need a medium sized bowl to mix harina with a pinch of salt and about half cup of vegetable stock. Next add lard and more of vegetable stock in little amounts. Knead the mixture properly to get soft dough.
4. In the next step, you have to add vegetable oil and sauté the tomatoes, the green onions, cumin, and sugar on medium heat. Keep in mind to cook it until the water gets evaporated and the vegetables become soft. Next you have to stir fresh corn and sauté for about two minutes. Complete the same with perfect seasoning using salt and pepper. Now remove it from the flame and stir cilantro leaves.
5. Now you need to drain the corn husks and spread it out as a flat. Place three tablespoons of masa harina dough on the corn husk and press it using your fingers into a two inches rectangle. Next, do the topping with about two tablespoons corn and the tomato mixture. Now gently fold the sides of the husk on the filling. Make a proper package by folding the flap down. Properly tie the tamales with a strand of corn husk.
6. Now you need to stem the tamales in about two inches of boiled water. Fill your basket with one complete layer of tamales. Don't forget to cover the tamales with a dish towel and steam them for about forty minutes.
7. Finally, you need to remove the tamales and then serve it hot. You can always reheat your tamales in the microwave and can also freeze, when needed to preserve.
Tips:
You should know that most tamale fillings are already cooked, so while checking the completeness of your dish, you just need to test the masa dough. For testing you need to take a pair of kitchen tongs and remove single tamale.