Prime rib is considered to be an impressive dish for any event. This has an interesting history attached to it. This was first prepared in the US, and now has become one of the good and expensive recipes served across all the famous restaurants. This was first cooked for Christmas, but now is served in most of the occasions. Most people prefer the standing rib roast with the ribs attached to it, while the others save the ribs to cook as a separate dish.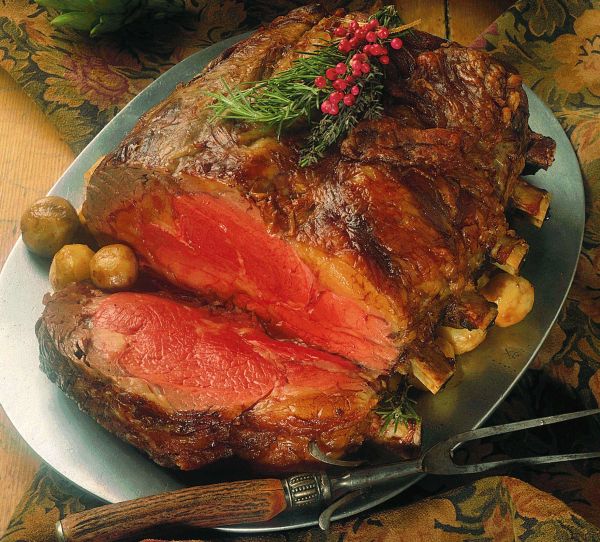 Complexity level: Moderate
Time taken: 40-45 minutes

Ingredients
1. Prime rib roast (boneless)
2. Olive oil
3. Kosher salt
4. Peppercorns
5. Rosemary, thyme and cloves
6. A meat thermometer
7. For the gravy, you can take corn starch
Process
1. Heat the oven at 500 degrees F (260 degrees C). Before that roast must be equal to the room temperature. Spread some amount of olive oil, salt and pepper on it. Now insert the meat thermometer, this is why we prefer boneless prime rib because bones can create problems sometimes. For your convenience, make a hole to put thermometer in it.
2. After that, put the roast in the roasting pan in such a way that fat side will be up and the rib side will be in the down side.
3. The complete cooking time will depend on the size of the roast, as you have 10 pounds of roast then it will take 2-2.30 hrs, 13-15 min for the rare (size of meat), 15-17 min for the medium rare in roasting or it will depend on the type of your oven. Flat roast obviously take less time in comparison to thicker one.
4. Leave the roast in the temperature of 115-120 degree F (temperature shown in meat thermometer) for rare one and medium rare temperature will be 125-135.
5. When the set temperature is over, take out from the oven and leave it for 20 min and cover it with aluminum foil.
6. Cut the meat strings.
7. Pour some amount of dripping into a pan maximum can be 2 tablespoons. Put it onto stove on medium high heat, take 2 tablespoons of corn starch into a bowl and mix it with minimum amount of water to make thick paste.
8. Pour the paste into a pan and mix it with dripping. Stir with spatula until it will convert into thick paste. Then, add some amount of water and cream or milk (2 cups). For more taste you can add kosher salt.
9. Take the whole mixture into a bowl or into a some flat thing, dip the meat strings into it. And decorate it with the leaves of thyme, rosemary and the cloves of garlic.
Tips
1. For low fat, you can use prime grade as it has low fat in comparison to choice grade.
2. Before putting prime into a oven, spread some damp salt onto a roasting pan, then put prime on it.