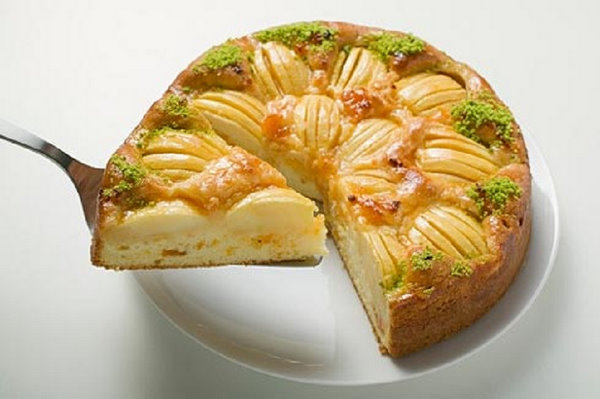 Research has revealed that the ultimate path to superior health is as simple as an apple a day. Cooked apples have always been useful and are use in traditional medicines to help stop diarrhoea and it contains minerals, iron and vitamins in abundance. Apple is considered to be a rich food for children which would help in their healthy growth of body and mind.
What are you suppose to get when you mix oil, eggs, sugar and spices with flour and apples? Yes, a delicious apple cake. I found this recipe from my mother's collection of hand written recipes. It's simple, basic and easy plus very yummy. It's a healthy and nutritious food. People of all age group will love eating this. It's a healthy choice for breakfast or for dessert. Here we help you out with a quick, easy recipe of a sumptuous breakfast treat or dessert which is healthy yet delicious:
Time required
Prep Time: 15-20 minutes
Cooking Time: 1 Hour, 30 minutes
Total Time: 1 Hour, 45 min.
Ingredients needed
1. 3 cup whole wheat flour
2. 2-3 cups diced/sliced apples
3. ¾ cup granulated sugar
4. 1 tsp. salt
5. 1 tsp. cinnamon
6. 4 eggs
7. ½ cup applesauce
8. 2 ½ tsp. vanilla
9. 1 Tbsp. baking powder
10. 1 Cup cooking oil
11. ¼ cup orange juice
Final preparation
1. Mix the wheat floor, sugar, baking powder and oil in a large mixing bowl. Now mix salt, eggs, apple sauce, vanilla, oil and orange juice. Keep on mixing while adding liquids so as to avoid formation of lumps. Beat until the batter is smooth. You can mix the batter in a food processor.
2. Grease a pan with oil or you can use oil sprays, which are easily available in the market and Pour half the batter into it.
3. Sprinkle some cinnamon sugar in the batter and mix well.
4. Arrange half the apples in a baking bowl and sprinkle some more cinnamon sugar.
5. Repeat the layers. You can form more than one layer of apples or the other option is to give one layer of apple in the middle of the cake and the other layer at the top. Try out different variations each time to make it more appealing and delicious.
6. Bake it at 300 degree Fahrenheit or150 degrees Celsius, for 90 minutes. As different people use different ovens, keep on checking the cake in between by pocking it with knife or a cake-tester. Bake until the cake tester or the knife comes out clean or until the cake is golden brown. Some ovens may take 2 hours to bake this apple cake.
7. Serve it with double cream or coffee.
Tips
1. You can also try out apples with other cakes, including the lip smacking chocolate cake. Apples are juicy which will make a normal dry cake moist. So in this case apples may be dried.
2. If you want you can top the cake with almonds, walnuts, raisins or any thing of your choice.
Enjoy your delicious Apple cake.