In some countries it is believed that eating Turkish style red lentil soup with chard on New Year's Eve will make you wealthy in the coming year. According to certain religious narrations, it has blessings of 70 prophets and few early civilizations had taken it as their main diet. It is lentil, a rich source of protein, minerals, vitamin B and fiber. Today, among the vegetarians, this is a part of staple diet. Lentils come in different varieties like green, red etc. and make different, both of vegetarian and non vegetarian, dishes. However, here we will cook Red lentil soup with chopped lamb meat. This is a Turkish lentil preparation. We have presented this dish as a rice preparation but you can opt out rice.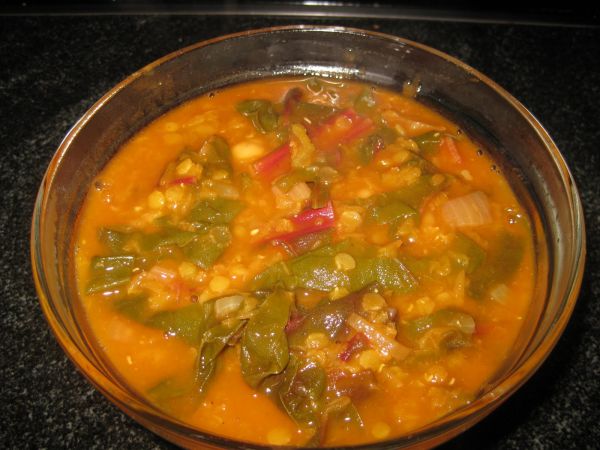 Complexity level: Easy
Time taken: 1 hour
Ingredients:
1. Ground or chopped lamb half pound
2. Olive oil 2 tablespoons
3. Chopped garlic 1 tablespoon
4. Chopped onion 3/4th of a cup
5. Paprika 2 tablespoons
6. Tomato diced 10 to 12 ounce
7. Dried lentil (red) 2 cups
8. Rice (white) 5 tablespoons
9. Chicken or vegetable stock 2 cups
10. Black pepper 1 teaspoon
11. Chopped Chard ½ pound, remove center rib before chopping
Process:
1. First you need to fry the ground lamb and turn it to brown. For that take ½ tablespoon olive oil on a fry pan and heat the pan. After lamb has turned brown, drain out excess oil from the lamb with paper towels.
2. Take rest of the olive oil on a deep and heavy bottom cooking pot. Heat the oil. Then add onion and garlic and sauté for couple of minutes.
3. Add paprika when onions have turned brownish and limp. Sauté the mix again for couple of minutes.
4. After that put lentil, stock and some water in the cooking pot and stir the mix thoroughly at low heat.
5. Now you have to add rice, tomato and half of the browned lamb and pepper powder to the mix. It is time to boil lentils along with rice and meat. Leave the whole mix on simmer for 35 to 40 minutes.
6. During this you need to be vigilant. Often water in the mix dries out or the ingredients, like rice and lentils, get stuck to the bottom of the cooking pot. So stir regularly.
7. After boiling for near 40 minutes, add chopped chard to the boiled mix and boil till the chard turns deep green.
8. When chopped chard would turn deep green you can be sure that lentil soup is complete.
Tips:
1. Lentils contain few antinational factors; to wash them away soak the lentils overnight in warm water.
2. You can use sumac powder for garnishing. It gives a distinct flavor to the soup.
3. Rice is optional; however, with rice lentil soup becomes a wholesome meal.
4. Meat is not a necessity and instead of lamb you can use other types of meat too as per your preference.
5. Chard adds necessary food values to the dish like Vitamin A, C and K.