Here's a healthy recipe for those who are careful about their calorie counts. A dish made of a piece of white lean meat that's incredibly high on protein and low on carbs can help you lose those extra pounds. A complete meal in itself, the dish can be served as a main course. The dish tastes delightfully creamy, rich and sumptuous on your palette but it's extremely light and non greasy.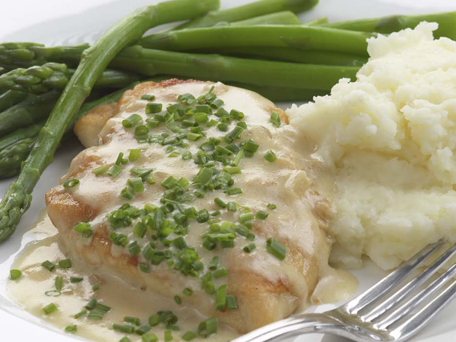 Serves: Four
Ingredients:
Skinless, boneless chicken breasts: 1 Pound
Kosher Salt : 1 Tsp
Black Pepper or Cayenne Pepper (Optional)
All purpose flour: 1/4 Tbsp
Extra vigin olive oil: 3 Tsp
For the sauce:
Finely chopped shallots: 1 Cup
Dry white wine: 1/2 Cup
Chicken broth: 14 Ounce
Fat-free sour cream: 1/3 Cup
Dijon Mustard: 1 Tbsp
Chopped Chives: 1/2 Cup
Procedure:
a. Pound the meat using a heavy skillet until flattened to an even thickness of 1/2 inch.
b. Rub some salt on both sides of the chicken and coat it with flour evenly. Dust off the excess flour.
c. Heat 2 tsp oil in a large nonstick skillet over medium high heat and cook the chicken till it turns nice and golden brown. Transfer to a plate and cover it.
d. In the same pan, add some olive oil and tip in chopped shallots. Stir fry for a couple of minutes, scraping the sides of the pan. Add the remaining flour and mix it well.
e. Now add the wine, broth, some salt for seasoning and bring it to a boil, stirring often.
f. Return the chicken. Simmer and cook for another 6 minutes. Now, tip in the sour cream, mustard and mix it well to a nice and creamy consistency.

Tips:
Serve the dish on a platter with some mashed potato and stir fried green vegetables. Garnish it with some chives and herbs of your choice.