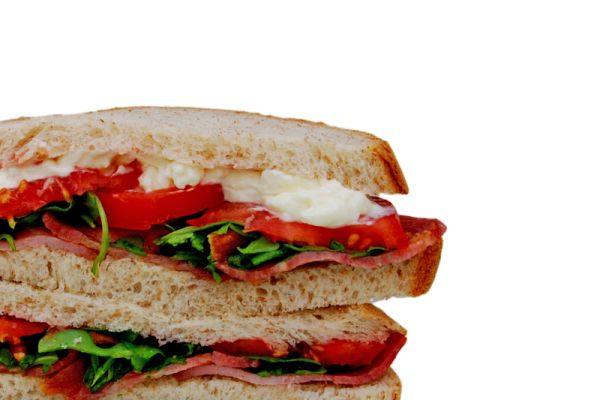 There is nothing better than a humble and comforting easy to make Bacon Sandwich. Be it a brunch or sudden guest visit or fussy tots, a sandwich is any given day a savior. Novices trying to make an impression of their culinary skills can add an edge to their talent by making this deceiving sandwich that's as easy as ABC. Simple and elegant bacon sandwich caters to both an exquisitely lavish as well as fast food. You could use the below mentioned ingredients or even play with the available ingredients at home as per your taste buds demand. Just make sure you have some good quality bacon to prepare this yummy delight.
Ingredients required
a. 8- 10 thick bacon slices
b. 8- 10 bread slices (sourdough, batard, panini, multi grain breads can be used)
c. 1 cup grated Cheddar cheese(can be substituted with Blue or Cabot Cheese)
d. 2 tomatoes (sliced and de-seeded)
e. 4 tablespoon mayonnaise
Serves: 4
Method
Crisp fry bacon slices for about six minutes in a thick bottom pan. It should be golden brown in color. Once done remove and transfer over a kitchen towel to soak the excess oil.
On a clean surface place the bread slices and sprinkle some salt and pepper. Place the sliced tomatoes, grated cheese, bacon and mayonnaise equally on the slices of bread. If required crumble the bacon in order to sit comfortably within for convenient eating. Spread some mayonnaise over the remaining bread slices and toast or grill them over a skillet or sandwich toaster for the crispiness and press down over the bread slice topped with all the ingredients.
This sandwich serves four or two greedy eaters.
Tips
a. To add some crunch to your Sandwich before grilling spread some mayonnaise for that crusty bite. The conventional butter can be replaced with mayonnaise for the change of taste.
b. You could grill or toast the bread slices before you start the stuffing too. This makes it easier if you are attempting a double layered bacon sandwich too.
c. It's best to pick firm tomatoes, if its ripe then use kitchen towel to soak up the moisture else the sandwich could turn soggy.
d. Butter or oil the pan before you place the sandwich else it could stick to the pan.
Note
You could use pickled olives, jalapeno and lettuce to make the sandwich interesting.