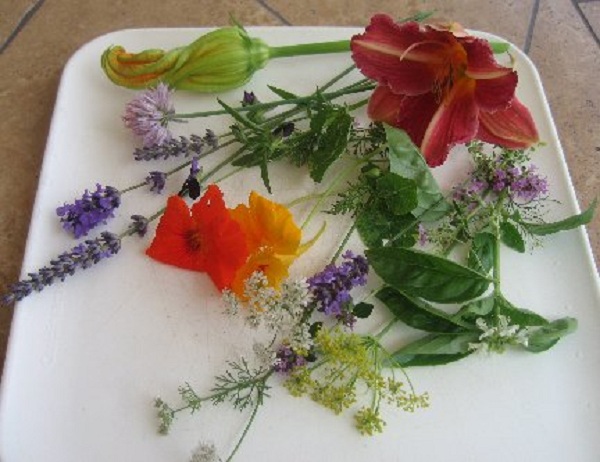 Flowers have a great visionary appeal, very few know that flowers also have an amazing culinary appeal. Certain flowers can be used for edible purposes; with their great scent and color they can spark up the dishes. Also these flowers uplift the attractiveness of the cuisine. You cannot pluck any random flower from your garden and use it in cooking, it is significant that you pick up a flower whose taste and looks compliment your dish. Certain flowers might not be fit for consumption, thus it is important that proper recce is done prior to using any flower in foods. Also remember to clean the flower for any insecticide or pesticide sprayed on them. Make sure the flower is fresh when used for garnishing a delicacy. Read on to know about some edible flowers which can add delectable taste and aroma to your plate.
1. Anise Hyssop or Agastache Foeniculum
Anice Hyssop is one of the most commonly used edible flower. It is popularly known as licorice mint and blue giant hyssop. This lavender blue colored flower not only looks great but also tastes equally well. The licorice flavor of the Anise Hyssop is coupled with a light minty taste. This flower has a long growing season and is thus ideal for edible purposes. Anise Hyssop can be used in herb tea (tisane), all you need to do is trim the heads of the flower and use it dried or fresh. You can also use this flower to garnish fruit salads or cucumber soup. The taste is superb and is very pleasing to the eyes.
2. Bee Balm
Bee Balm has many names like Oswego tea, horsemint and wild bergamot. The scientific name of this flower is Monarda didyma. Bee Balm again has a minty flavor and is available in stunning pink, red and purple colors. This flower got the name Bee Balm as its nectar attracts bees and humming birds. Bee Balm can be used in making teas with mint aroma. The petals can be scattered on fruits salad to increase its attractiveness. It can be used to substitute Earl Grey Tea in recipes.
3. Borage
Borage is also known as star flower because of its star-shaped blossoms. Its scientific name is Borago officinalis. Borage is available in white and blue colors; and has a cucumber-like flavor. Borage is one of the prettiest edible flower in the whole lot. The pointed blossom can be separated from the stem and used in lemonades and fruit punches. You can also prepare a refreshing summer tea by brewing the petals in hot water.
4. Calendula
Pot Marigold is the popular name of Calendula. Calendula officinalis is the scientific name of Calendula . This flower is available in orange, red and yellow colors. It looks quite refreshing and has an amazing honey-like flavor. This flower is available throughout the year and is available in abundance. The petals can be used to garnish fruits salads. Thanks to the beautiful color, Calandula petals are also used to give flavor and color to rice, cheese, butter, etc. Dried Calendula petals can be used to garnish soups.
5. Chives
The scientific name of Chives is Allium schoenoprasum. This purple-colored flower is hugely used for edible purposes thanks to its lovely oniony flavor. It is categorized as the the smallest onion family member. Chives are not perennial in nature and are available only during the spring time. The small florets of the Chive flowers can be broken off and used to garnish dips, salads, butters, etc. It can also be infused with vinegars for great taste. Dried petals can also be used for culinary purposes.
6. Lavender
Lavender is also known as English lavender, common lavender and true lavender. The scientific name of this purple-colored flower is Lavandula angustifolia. The flavor of Lavender is sweet and floral. It can give great aroma to the dishes. It can be used in cookies and fruit preserves. Lavender is commonly used in several desserts. Dried Lavender is used to flavor savory dishes like lamb, white beans and pork.
7. Nasturtium
Nasturtium is also called Indian cress or with its scientific name Tropaeolum majus. Nasturtium is available in a plethora of colors ranging from yellow, crimson, white and peach. Not only does Nasturtium look great but also has health benefits with exceptional antioxidant qualities. This flower has a great peppery taste which makes it a perfect edible flower. It can be used in salads. It can also be used in combination with butter on steamed veggies and fish.
8. Runner Pole Bean
Oregon Lima Bean is the popular name given to Ronner Pole Bean flower. This red-colored beautiful flower's scientific name is Phaseolus vulgaris. The earthy flavor of this flower makes it a favorite for edible purposes. These flowers can be used to garnish deviled eggs. It can also be used with antipasto.