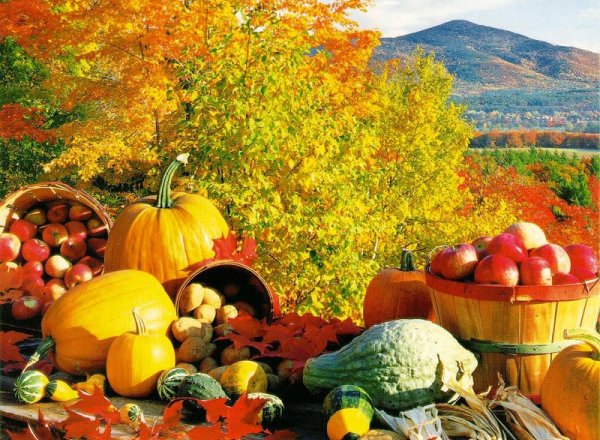 Most fruits and vegetables are seasonal by nature. The kind of vegetables and fruits that make their way to your dinner table depends on what is available during the season. It is essential to opt for veggies and fruits that meet the nutritional requirements of the family and also allow you to experiment with different kinds of healthy recipes. The fall season does not disappoint when it comes to variety in fruits and vegetables. You can plan for and serve the most delectable of meals using the options available to you.
Readily Available Fall Fruits
1. Apples
Apples in different varieties are available by the plenty in this season. Honeygold, Gala, Golden Delicious and McIntosh are some of the more popular varieties. Choose fresh and firm apples to store and use for a longer duration of time. Ask for the ones that can be stored for months without getting stale. Use these in different recipes to give your family a balanced diet.
2. Blueberries
Buy blueberries that are plump and uniform in color. To enjoy these through the winter, buy in large amounts and keep in cold storage for later use. These are low calorie fruits rich in dietary fiber, minerals, vitamins and anti-oxidants.
3. Cranberries
These fruits available in the fall season are a rich source of vitamins and minerals. Look for organic cranberries for a healthier alternative. Antioxidants in cranberries carry anti-aging properties and also help in lowering the cholesterol levels in the blood.
4. Pears
Pick the hard ones to make sure that you can use them over a period of days. Slice for salads or use healthy recipes for preparing nutritious desserts. This fruit enriches your diet with fiber, minerals, vitamins and antioxidants.
5. Raspberries
This fruit tastes great and gives to your body the much needed vitamins, antioxidants and dietary fiber.
The Popular Fall Vegetables:
1. Broccoli
When picking broccoli, make sure that its heads are firm and tight. Steam or stir fry to serve a low calorie dish rich in vitamins and minerals. It is also a good source of folate. Our body requires this nutrient for producing red blood cells.
2. Brussels sprouts
Roast these to prepare healthy snacks using olive oil and some onions. Microwave or steam to rustle up a dish for dinner. These sprouts are a rich source of Vitamin K, minerals such as copper, calcium, iron and the antioxidants.
3. Cauliflower
This vegetable can be picked and savored in spring as well as fall. Avoid blemished pieces. Pick the ones with fresh leaves. Roast or steam to preserve the nutrition while cooking. This is a low fat vegetable rich in vitamin C, folate and dietary fiber.
4. Leeks
Pick crisp leeks. Use these in recipes as an alternative to the onions. These are low in calories and rich in antioxidants. In addition, these serve as a good source of folic acid, vitamin A and minerals such as potassium, iron and calcium.
5. Parsnips
Choose the ones that are smaller in size. To savor the taste with the nutrients intact, roast with some olive oil. Add some carrots to enhance the taste and nutritional value of the dish.
6. Pumpkins
For better flavor pick the smaller pieces. Steam, bake or stew to preserve the nutrients. Use to prepare delicious pumpkin soup or pumpkin bread. Roast and puree for use in soup or bread.
7. Onions
Choose firm onions to use in recipes. Store for use over a long duration of time. Use to enhance the taste of other vegetables in various preparations. This low calorie vegetable is a rich source of vitamin B complex, vitamin C and minerals.
8. Winter squash
These are ubiquitous by their abundance in fall. Roast with acorn and butternut to serve a nutritious meal. It provides you with ample amounts of dietary fiber without adding much to the calorie count of the meal. In addition, it is known to be an excellent source of vitamin A and vitamin C.