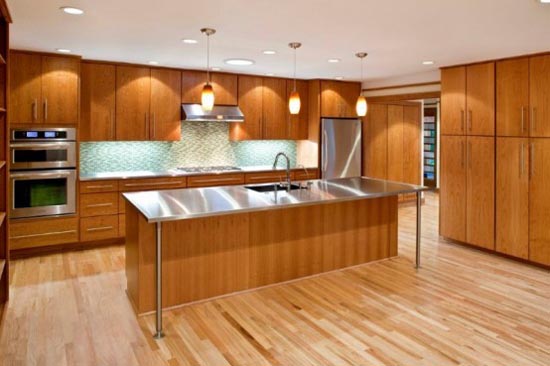 You might be planning to revamp your kitchen or building a new one. Whatever may the case be you must be thinking hard what would you need to place in your kitchen and what not? The simple way out is to consider time, energy and money saving techniques. Yes, you can do this but you will need to learn a few easy facts that help you create a green kitchen. Here are some tips that you should consider to have an eco-friendly kitchen.
1. Buy local
Purchase as much things as possible from your local producers. Importing of goods leads to waste of fuel and at the same time adding to the cost of the existing product making it expensive. The national producers make use of great amount of plastic as well as paper to keep food fresh. Purchasing local produce refers to offering a helping hand to small farmers and adding up to the local economy. Another best option is to have your own garden to grow fresh vegetables and fruits.
2. Sustainable seafood choices
Certain species of shellfish as well as fish have been harshly overfished in the precedent decades and not to forget the pollution issues. Just a better and wise choice of yours at the supermarket can alter the termination of these sea creatures. Several fishes are in danger, some of which include Orange Roughy, Red Snapper and Chilean Seabass. If you wish to have a full list of some of the eco-friendly seafood and the seafood that you need to avoid, have a look in to the Seafood Watch Guide.
3. Use natural cleaning products
Have a look at the label of cleaning products that you use at home, you will be shocked to see that they are not safe for you, your pets or say the environment on a whole. You can clean most things in your kitchen with the baking soda, vinegar and also lemon. Try these and put aside the chemical stuff for the most difficult cleaning.
4. Save those scraps
Think twice prior to throwing out the vegetable scraps as they can be put to some use. Many vegetables can be used for preparing a vegetable or chicken stock. Vegetables such as parsley stems, onions, carrot pieces, tomato bits and celery can be of great use. You can also compost the kitchen scraps to use in your garden.
5. Change the lighting
Changing the lights is an easiest way to conserve energy in kitchen. Replace the incandescent bulbs with energy efficient fluorescent bulbs. A compact fluorescent light fits well in a typical light socket and makes use of less energy at the same time creates less heat thereby conserving more energy. One more option would be incorporation of more natural light in the kitchen. You can also go for tubular skylight as they are cheap and offer a substantial amount of light to your kitchen.
6. Energy efficient appliances
If you consider buying any new appliance, ensure that you buy the ones that come with Energy Star symbol. This is a program by the EPA that helps to spot energy efficient products. For kitchen appliances usually go for 10 to 20 percent energy efficiency. Convection ovens are 25 percent more proficient in comparison to the conventional ovens as they cook sooner. Go for self-cleaning ovens as they have better insulation. Refrigerators with freezer either on the bottom or the top are more competent than the side-by-side refrigerators.
7. Check your range hood
Ensure that the range hood is frequently cleaned and is in proper working condition. A range hood that is in poor condition will not offer proper ventilation thereby creating a hotter kitchen at the same time adding up to your cooling costs. Check out hoods that are energy efficient available in the market. Also, check that your range hood vents air outside and is doesn't re-circulate the air.
8. When you remodel, consider recycled and renewable
When you remodel your kitchen, use products that are made from recycled materials. You can find recycled cabinets, countertops and flooring in attractive designs, which are made using materials, such as plastics, reclaimed timber, concrete, stone and paper. You can also use a renewable resource such as bamboo as an option as it is durable and regrows fast.
9. Use the right size pan for the job
Make use of the smallest pot or pan required for cooking. Smaller cooking surfaces need a lesser amount of energy to heat up. Also, take care that you are matching up the pan with the correct burner size. If you are cooking with a 6″ diameter pan on an 8″ burner, it will waste more than 40 percent of the heat. Make use of microwave for small tasks, such as melting butter.
10. Induction cooktops
Induction cooktops are usually more resourceful in comparison to the electric or gas rangetops. They offer 40 to 70 percent of power saving and make use of induction heating that employs an electromagnetic field causing heat in any ferrous utensil. These cooktops also offer instant temperature control and the top remains cool all the time.