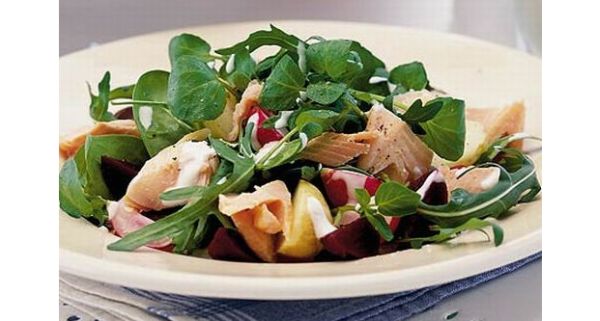 Cooking food may seem to come naturally. There may, apparently, be no special skill requirements as such. However, there are some innovative additions to the process, which add to the benefits of cooking. Besides adding to the taste of your food, they also bring increased nutrition along with.
One such method is smoking. Smoking has been in practice since long. Earlier, it was done essentially to preserve food. This technique is also adopted in many cuisines due to the unique taste and flavor it imparts. There are two methods of smoking – hot and cold. Smoking essentially preserves the nutrition of the food. A truly ancient method of cookery and food preparation, it has undergone some variations in the present. Here is a recipe which uses smoked trout and lots of healthy leaves to give you the desired nutrition from a healthy cuisine.
Name of the dish: Hot smoked trout salad recipe.
The hot smoked trout salad is supposedly a Scandinavian cuisine. Scandinavians are extremely particular about their breakfasts and brunches. They preserve many edible items like fresh fruit, muffins, waffles,etc., which have found an integral place in their cuisine. Their cuisine is a revelation of their concern about healthy, fast and modern food. The food is easy to make and does not require great skill or preparation. Scandinavians are known for their creativity in using even the common ingredients. Their cooking mainly concentrates on baking, simmering and pan-frying. Deep-frying is usually avoided. Retaining the nutritional component of food is vital to this form of cooking.
Salads are an essential part of a healthy diet. The addition of fish gives you the added benefits of nutrition it brings along. The hot smoked trout salad makes an important and favorite summer dish. It is a healthy and attractive recipe. The freshness and flavorful appeal of this salad is hard to resist. You can have your own variation in the recipe by using different types of salad leaves. Some of the good ones are little gem, baby spinach, watercress, dandelion, beetroot leaves, etc. which work well. Even if the trout is not available, you can have the recipe made out of hot smoked salmon or the cold cooked salmon. The recipe can be had as a light meal, or have accompaniment(s).
Complexity level: Easy
Time taken: Few minutes
Ingredients: Serves 4
1.1 tbsp horseradish sauce
2. 4 tbsp apple vinegar with lingonberries
3. 7 tbsp rapeseed (or sunflower oil)
4. 2 shallots (finely chopped)
5. 1 head lettuce
6. 1/2 Cucumber (finely sliced)
7. 8 radishes (thinly sliced)
8. Mint ( 4 sprigs finely chopped)
Process:
First of all, work with the fish. Make small (bite-size) pieces of the fish. You can if you want to keep them separately to be used later.
Thereafter, make the vinaigrette. A Vinaigrette usually is made by mixing oil (3 parts) and vinegar(1 part). It also has shallots, herb, salt and pepper.
Take a small bowl and fork. Whisk together the horseradish and the vinegar in the bowl, using a fork. Gradually pour in the rapeseed or sunflower oil. Keep on whisking while adding oil to blend the dressing properly. Now, put in salt and pepper according to your taste.
Take a large bowl. Put in the lettuce, mint and shallots along with the vinaigrette. Toss properly so that all the leaves get the seasoning.
To serve, take four plates. You need to divide the salad leaves and trout pieces equally into four. First, put the salad leaves on the plates. Spread the cucumber and radish slices above the leaves. Thereafter, put the hot smoked trout pieces. You can eat this on its own or have accompaniments like dark rye bread or spelt and fennel bread.
Tips:
You can also prepare this recipe with raspberry or cider vinegar.
Mackerel can also be used instead of trout.