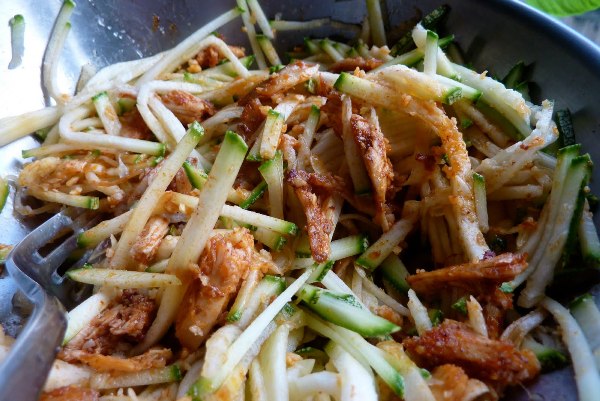 Salads are the additions to your dinner and lunch which make these tastier and healthier. Salads include vegetable salad, fruit salad or mixed salad. The ingredients include vegetables, fruits, seafood, poultry food and whole grains. They are the best appetizer.
There are hundreds of salads recipes available which double the joy of a meal. Let's take a look at the top seven among them
1. Cantaloupe and watercress salad:
Cantaloupe has a spongy and juicy structure which makes it ideal for salad making. This salad mainly includes ripe cantaloupe and torn watercress, with the inclusion of raspberry and virgin oil. Pinch of salt, pepper and sugar granules is also added for giving it a rich flavor altogether. The salad is a rich source of vitamins and minerals and is extremely useful for people suffering from skin diseases, constipation, obesity and high blood pressure.
2. Warm roasted chicken salad:
Chicken always tastes good, and when it is an ingredient of salad as well, the experience becomes nicer. It is a very tasty and healthy salad. The main ingredients include roasted chicken, boiled potatoes, chopped tarragon, chopped tomatoes, garlic cloves and butter. A dressing of English mustard, mayonnaise, tarragon vinegar and cream is done to make it more delicious. It looks very colorful.
3. Lima bean and Ham salad:
It is a tasty healthy salad including a number of healthy ingredients. It is made with cooked Lima beans, English cucumber, chopped sweet onion, cubed feta cheese, sliced cooked ham and dried oregano. The salad is a good source of carbohydrates and energy.
4. Green salad with papaya dressing:
This salad is also named as Som Tam. It's most popular in areas of Thailand. It's a unique flavored nutritious salad.
It consists of peeled and chopped papaya and tomatoes with small amounts of salt, pepper, vegetable oil, granulated sugar, dry mustard and white vinegar. Thin slices of papaya are spread over the top of salad.
5. Avocado salad:
Avocado is rich in texture, color and flavor and is wonderful for making salad. It is a nutritious fruit loaded with vitamin C, vitamin E and mono unsaturated fat. Avocado salad is prepared with creamy avocado, crispy walnuts and fresh corns. This tasty salad can accompany any sort of tasty food.
6. King Prawn salad:
King Prawn salad is a mouth-watering salad which is prepared using onions, fried prawns and chopped tomatoes. Small drops of red vinegar, olive oil and a bit of black and green pepper is also added.
7. Florentine Pasta salad:
Pasta is always a treat to have and this pasta salad is a real treat. It is a tasty Italian salad which includes pasta, artichoke heart, spinach leaves and curls of parmesan cheese as ingredients. Small amounts of white vinegar, finely grated lemon, salt, pepper, virgin olive oil and pesto are added to enhance the flavor. It's a nutritious salad altogether.