The concept of pizza originated in Naples, Italy and it was basically a peasants dish. Now, you can find people all over the world craving for this dish. So, what really does make it a popular item on the menu? Is it the cheese oozing off the pizza? The fact that you can add any toppings you want? Or maybe both! Whatever the reason is, it is one of the most popular dish in the world today! But there is a downside to this popular dish. Pizzas can be quite unhealthy. All that cheese, or toppings of your choice or even a deep dish can really be harmful to your body. But you just can't get away from pizza, can you? Here we offer you a new and innovative solution for making healthy pizzas at home.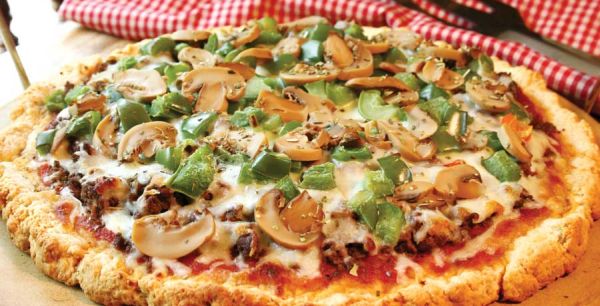 Complexity level :
Easy
Time Taken :
20 To around 30 minutes for cooking
40 To 50 minutes for preparation
Ingredients :
For the base :
Whole wheat flour: 1 1/2 cup
Soya flour: 2 tbsp
Active dry yeast: 1 1/2 tsp
Sugar: 1 tsp
Salt: 1 tsp
Olive oil: 2 tbsp
Wheat bran: 2 tbsp
For the sauce :
Olive oil: 2 tbsp
Chopped onions: 1 small
Chopped garlic: 4 to 5 cloves
Finely chopped tomatoes: 4 medium
Fresh basil leaves: a few
Whole crushed red chillies: 1 tsp
Salt: to taste
For the topping :
Sliced onions: 1 medium
Sliced button mushrooms: 10 to 12
Tomatoes sliced into thick strips: 2 medium
Green capsicum sliced into thick strips: 1 medium
Mozzarella cheese (low fat and grated): 1/2 cup
Olive oil: 1 tsp
Oregano: 1/ 4 tsp
Process :
1. Mix up the sugar along with the yeast. Add to this a tsp of warm water. Let this sit aside till it turns frothy. Then you need to add the yeast which is frothy to the whole wheat flour, as well as the soya flour. Add olive oil, wheat bran and salt again. Finally add a little water and knead the dough well. After you finish kneading it, you need to cover it up using a damp cloth and let it be for around forty five minutes in a place which is dark. Or you could simply let it be till it doubles up in size.
2. After this, divide up the dough into four parts.
3. Now roll out the dough into medium discs which should be around 8 inches in diameter. Make sure that you use a fork to prick the entire dough. The oven should be preheated to 220 degree Celsius.
4. In order to make the sauce, you need to heat up the olive oil and add the chopped onions and garlic to the hot oil and fry it for a while. Add tomatoes to this followed by one cup of water and then bring the entire mixture up to a boil.
5. Then stir in the basil leaves, dried chilies and salt. Let this simmer on a medium heat for around 5 minutes.
6. After the sauce is done, spread it on the pizza base.
7. Once you spread it evenly, you have to top it using the mushrooms, capsicum, onions and sliced tomatoes.
8. Sprinkle the grated low fat mozzarella cheese onto the pizza. Make sure that it covers the top evenly enough. Brush the pizza using olive oil.
9. Finally pop it on an oven proof tray which has been greased and into the oven. It should take around 20 minutes to bake the pizza. Or bake it till you see that the base has become crispy and the cheese has completely melted.
10. Finally, remove it from the oven and garnish with oregano before serving it.