With the news of stork visiting you, starts the never-ending advice from everyone around you about your diet and food habits leaving you even more confused. Pregnancy is a crucial stage in your life when taking care of your health is not just important for you but also directly affects your unborn baby, and hence, you need to be extra cautious about all that you eat and drink. However, contrary to the popular belief, you need not eat double the amount for two lives, as research shows that women require nearly 300 calories more a day during pregnancy. The requirement of a pregnant woman, however, may vary depending upon the activity levels and body type. It is always better to have a balanced mix of nutrients in your diet, which should include proteins, carbohydrates, vitamins and minerals, for the healthy growth and development of your baby.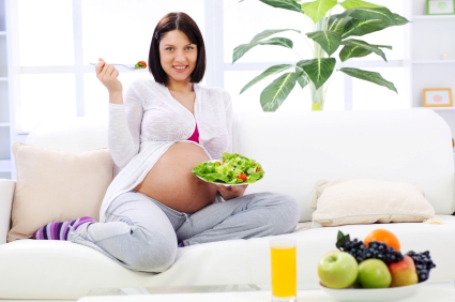 The healthy mix of foods for pregnant women includes:
Carbohydrates: Carbohydrates provide your body with the essential supply of energy to perform day-to-day activities. Found in plenty in starchy vegetables like potatoes, and grains and cereals like rice and wheat, adequate intake of such food items is essential to deal with increase in weight and changes in hormonal levels that take place during pregnancy.
Proteins: Proteins are said to be the building blocks of human body, i.e. proteins are required for the formation of various cells and tissues in the body. Hence, you need to have a balanced intake of protein for proper development of the baby. Eggs, meat, nuts, and legumes particularly soybeans are rich sources of protein which must be a part of your diet on regular basis.
Calcium: For the development of strong bones and proper functioning of nerve cells of the baby, it is important that you should have enough intake of calcium as well. Besides, calcium is also needed during pregnancy to prevent mother's bones from getting weak as more of calcium supply goes to the growing fetus, particularly, during the second trimester. For this, do not forget to have your daily glasses of milk. Eggs, meat, and fish also contain calcium.
Vitamins and minerals: Your diet is called balanced when, apart from the above-mentioned elements, it also contains the necessary vitamins and minerals in it. Vitamins and minerals are required in small quantities, yet, they play a pivotal role in the growth of the fetus. Sufficient consumption of fruits and vegetables may provide your body with these essential nutrients; however, doctors do prescribe certain supplements as required.
One must avoid any supplement of vitamin A and must restrict the consumption of the same accordingly as it is said to cause deformities in the fetus. The most significant of all the vitamins is the vitamin B complex and folic acid. In fact, vitamin B and folic acid supplement is prescribed by doctors not during pregnancy but also before pregnancy, when one is actually planning for pregnancy as it prevents neural deformities like spina bifida in the unborn baby. Further, vitamin C helps boost up your immunity levels as well as that of your baby and vitamin D is important for bones development. A sumptuous intake of citrus fruits helps in meeting up the requirements of Vitamin C in your body while milk, milk products, eggs, and meat make up for the supply of vitamin D.
Along with the various solid components of your diet, following drinks are highly recommended during pregnancy:
Water: Keep your body hydrated with at least 8-10 glasses of water per day, which is equivalent to nearly two liters of water. Enough consumption of water not only keeps you hydrated but also keeps your system clean. Make sure water is well purified or take mineral water instead as any impurities in water may result in unwanted water-borne diseases.
Milk: Do not forget the age-old advice of taking two glasses of milk daily during your pregnancy. The growing fetus requires calcium for the proper development of bones, and milk intake ensures sufficient supply of vitamin D and calcium to your body.
Juices and soups: Another important portion of your liquid intake should be in the form of various juices and soups. This is the best way to grab the nutrients of the fruits and vegetables, so, keep a glass of juice or a bowl of soup as a regular feature in your daily menu.
Energy / sports drinks: You may also include any of the available energy drinks or sports drinks in your diet if your activity levels are quite high to replenish the lost electrolytes in your body. However, such drinks may contain preservatives and it is better if such things are avoided during pregnancy. Hence, do consult your doctor first and then opt for any of such drinks.
When it comes to the liquids that you are taking in during pregnancy, you will have to avoid the alcoholic beverages and an excess of caffeine. Alcohol and caffeine consumption may result in miscarriages while neural disorders may occur due to the effect of alcohol on the fetus. Hence, you should completely do away with alcohol in any of its form while limit your caffeine intake to only one cup per day. Also, make it a point to avoid having chilled or too hot drinks.
Last but not the least, your nutritional diet should always be accompanied with light exercises done under proper supervision and on the recommendation of your doctor to experience a healthy pregnancy.