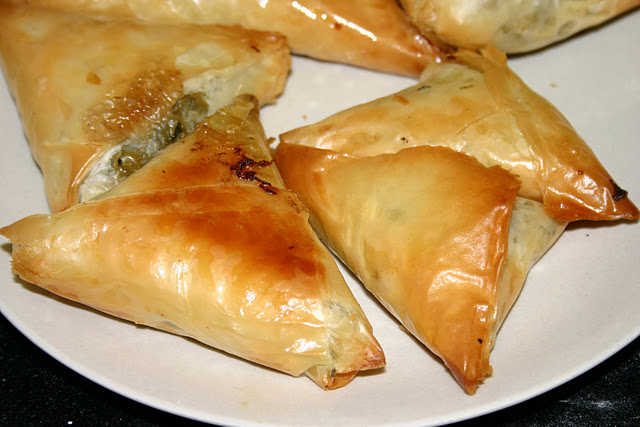 As the name itself sounds so delicious, you can imagine what Spanakopita (that is actually a Greek spinach pie) would taste like. An easy to prepare dish with easily available ingredients would make you prepare this dish on a frequent basis. The preparation time for this dish is one hour and 30 minutes.
The ingredients for Spanakopita include five frozen and chopped spinach (the dryness should be retained by squeezing them dry) , six eggs, one onion large in size (chopped) , 1 cup dill leaves (fresh and chopped), a pound of feta cheese (crumbled) , half a pound of cottage cheese, sheets of phyllo dough counting eight in number (thawed) , three tablespoons of olive oil. One teaspoon ground black pepper is also a good ingredient to use (the quantity may be taken according to taste) and sour cream for garnish is optional.
The preparation of the dish is simple and includes the following steps:
Step 1: Mix the spinach, onion, eggs, cottage cheese, feta cheese, dill leaves and black pepper in a large bowl and set the temperature of the oven to 375 degrees Fahrenheit (equals to 190 degrees Celsius).
Step 2: Take a baking dish of size 9 by 13 inch and place two sheets of phyllo dough at its bottom. With a tablespoon of olive oil, drizzle it and place two more sheets of phyllo dough over it.
Step 3: Place the spinach fillings in an even order on the phyllo sheets. Press gently and place additional two phyllo sheets. Again carry out the drizzling procedure using a tablespoon of olive oil and place another two phyllo sheets over it. On these two phyllo sheets, carry out drizzling with a tablespoon of olive oil.
Step 4: Bake in the oven, which is already heated to 375 degrees F. Carry out the baking until the top portion turns out brown.
It is to be served in square shape cuttings topped with sour cream dollop.