Nothing's more delightful than celebrating birth of Christ with your family. Everything about Christmas is so fascinating. Having a lavish feast is one of the most important aspects of Christmas. And nothing is more delicious than traditional recipes like glazes ham with roast onions, which can be relished by one and all present at the dining table. So here's the recipe of this traditional dish so that that flavors of the recipe remain intact.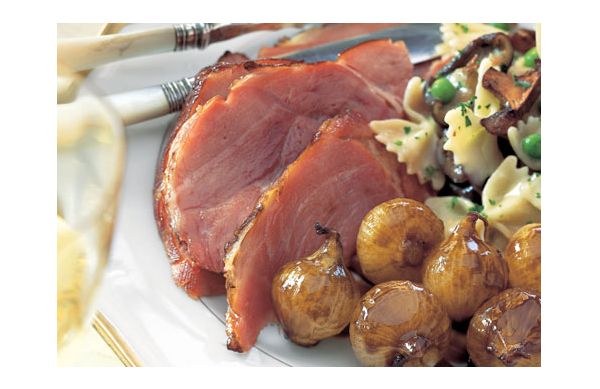 Complexity level: Simple
Time taken: More than 3 hours are required to cook this dish, ensuring that the flavors and richness of this dish remain intact.
Ingredients:
a. 12 red onions, topped and peeled
b. 200g of brown sugar
c. 60g of butter
d. 2tbs of red wine vinegar and balsamic vinegar
e. 4 dried bay leaves
f. ground black pepper
g. one 8kg of ham
h. one 480g of jar ginger marmalade
i. 125ml of port
j. some cloves
k. 2tbs of green peppercorns and salt
Process:
a. Preheat the oven to 180 degree.
b. Place red onions in an ovenproof dish. Place butter, red wine, balsamic vinegar and bay leaves in a jug, preferably heatproof and season it with salt and pepper and place it over the red onions. Cover it with foil and roast it in the oven for half an hour.
c. Add spring onion and cook it again for half an hour. Then remove the foil and cook it further for 30 minutes till the onions are tender.
d. Rinse ham under cold running water and dry it with a clean paper towel.
e. With a sharp knife, cut the ham carefully in zigzag pattern into ham shanks. Be very careful while running the knife under the rind of the ham. Carefully lift the rind keeping it intact in one piece and wrap it one piece in a damp towel and refrigerate it.
f. Take out extra fat from the ham, leaving one cm thick cover. Now cut the fat in diamond shape which should be 5mm deep.
g. Pour little water in a roasting pan and place ham on a over rack. Wrap overhanging shank, to stop the juices from dripping, in a foil.
h. To make the glaze, heat the marmalade in a saucepan over medium heat for 5-7 minutes or until melted. Add port and mix until combined. Pour half the glaze over ham, using a spatula to spread evenly over surface. Stud each diamond with a clove. Add peppercorns to remaining glaze. Bake ham in preheated oven for 1 hour.
i. To prepare the glaze, you have to heat marmalade in a saucepan for 5 to 7 minutes. Keep the heat medium. Add port in the marmalade.
j. Now pour the glaze on the ham and spread it evenly on the ham with the use of spatula. Add peppercorns to the glaze and decorate each of the diamond with a clove.
k. Now bake this ham into the oven for an hour.
l. After an hour remove the ham and increase the temperature to 220 degree. Now pour the remaining glaze over the ham and bake the ham for more twenty minutes. Remember to turn the oven.
m. Remove the ham from the oven and let it cool.
n. In this time you can cook roast onions in the oven for fifteen minutes.
o. Carve the ham and serveit along with roast onions.
Now you dish is ready. Serve it hot and enjoy with your family. Happy feasting!