This Korean dish is mentioned the first time in a cookbook of the late 19th century, and has become very popular in modern times. There are various theories as to the origin of bibimbap but it all basically comes down to the same combination of rice, mixed with other things and widely enjoyed by all sections of people till date. However, it is believed that bibimbap originated from Jeonju hanok village. It is very convenient to prepare and is served even on International flights.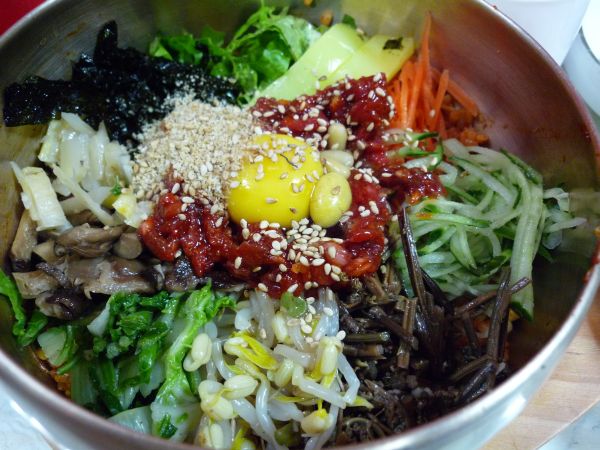 The cuisine
This is a signature Korean rice dish with mixed vegetables. The tasty toppings are arranged on the rice with a sunny side up egg taking the center stage, with a generous gochujang or chilli pepper sauce. You are supposed to mix it all up together and eat it. It can be served both as a hot or cold meal.
The wacky tinge
The vegetables generally used in the bibimbap include zucchini, cucumber, bell flower root, mushrooms, soybean sprouts, spinach, bracken fern stem, tofu and beef. Beef is sometimes substituted with seafood and chicken. The unique aspect of this dish is centered in the way it is presented. The various ingredients of the dish are arranged in a complementing and visually appealing way.
Ingredients
To make 4 to 6 servings you will require:
a. 1 packet of bean sprouts
b. 2 small size zucchini
c. Fern brakes or kosari
d. A bunch of spinach
e. 5 to 7 shitake mushrooms
f. 200 grams ground beef
g. Soy sauce, hot pepper paste, sesame seeds, garlic, vegetable oil and sesame oil
h. 1 small carrot
i Eggs
j. Cooked rice
Preparation procedure
Assemble all your ingredients on a platter and keep them ready
a. Cook rice in a stainless pot or rice cooker.
b. Rinse out the bean sprouts three times and put into a pot with a cup of water and add 1 tsp of salt. Cook for 20 minutes and drain out water. Then, mix in 1 clove minced garlic, a pinch of salt and sesame oil as required.
c. Put this on a large platter.
d. Put the spinach in a pan of boiling water and stir it for a minute and rinse out in cold water a few times. Lightly squeeze the spinach and mix it with a pinch of salt and 1 tsp of soy sauce.
e. Put this also on the platter.
f. Cut 2 small size zucchini into thin slices and sprinkle over with a pinch of salt and mix thoroughly.
g. Saute this in a pan over high heat and when it starts to look translucent, remove from heat.
h. Put this also on the platter.
i. Soaked and cooked kosari is available at Korean grocery store so you can pick up the ready made one. Take 2 to 3 cups of kosari and cut into 5 to 7 cm long pieces. Saute this in vegetable oil in a heated pan. Add in 1 tbsp of soy sauce and 1/2 tbsp of sugar, stirring all the time. Cook for 1 to 2 minutes and add sesame oil.
j. Put this also on the platter.
k. Saute the shitake mushrooms after slicing them up thinly in 1 tsp of vegetable oil. Add 1 to 2 tsps of sugar and 2 tsp of soy sauce and stir for 2 minutes and add sesame oil.
l. Put this also on the platter.
m. Put some oil in a heated pan and add the 200 grams of ground beef and stir continuously. Add 1 tbsp of soy sauce, 4 gloves of minced garlic, a little grounded black pepper, 1/2 tbsp of sugar and sesame oil and stir till it gets cooked.
n. Saute strips of carrot for 30 seconds and put this also on the platter.
p. Prepare the sunny side up egg in a pan.
q. Arrange the rice in a big bowl and attractively lay out the vegetables and meat. Top this up with the sunny side up egg.
r. Add sesame oil and hot pepper sauce and serve.
Why you should try it
It is a wholesome and complete meal which is capable of adapting to any recipe of your choice. It is a harmony of contrasting taste centered around the rice and can become a unique recipe according to the creativity and preferences of the chef. This meal has all the essential nutrients and is not too rich or oily.