In a world beset by technological innovations each and every second in each and every part of the world, comes a whole new innovation, a leap into the future if you could call it that.
Whenever you go to a restaurant, it is conventional that you sit down, you place your order, wait for a few minutes in between and then a smiling waiter with your platter in his or her hand comes up to you, keeps the plate wishes you "Bon Appetite" and you begin to eat.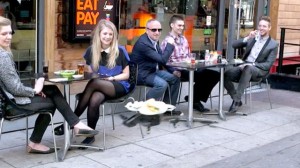 However, how would you like to get a whole new twist to this contemporary dining experience??That is exactly what the Japanese and other foods chain of stores, Yo! Sushi has been striving to deliver to its customers. Keeping with the trend of adopting modern technology in order to get things done in a more efficient way, they have begin to experiment with a robotic tray attached to a helicopter-like contraption. The result: you get to see you food fling towards you, on what is seemingly a flying tray. The contraption is not completely independent, since it is controlled through a remote. However, this is just a prototype, and may develop even more to become completely independent of external control.
The chain of stores, which delivers quality Japanese cuisine and also other cuisines, always used a degree of mechanization within their manufacturing unit, in the form of a conveyor belt, but this modern hi-tech development is completely unexpected and out of the blue.
Their CEO says that they have always tried to maintain the quality at the retail chain. Till a few days back, it was the conveyor belt which used to deliver the food to customers, the customers would take what they wanted from an ongoing conveyor belt, but the new iTray as it is being called breaks all previous boundaries. The device is being used and if approved, will be used in all of the retail stores of the franchisee.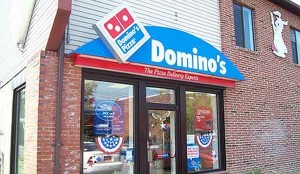 In a similar stint with mechanics, Domino's Pizza is also experimenting with the same principles, using a remote controlled helicopter to deliver its pizzas. The delivery was tested in a village on the outskirts of London. IT took the machine nearly 10 minutes to cover the distance. Whether this will become a viable reality in the modern world, where we get our pizzas delivered by a drone is not possible to predict at this stage. However that our eating experience is about to get more mechanized by the day, that is for sure.